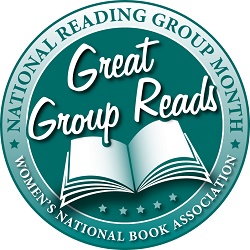 The National Reading Group Month/Great Group Reads Committee of the Women's National Book Association has chosen 21 books as this year's list:

Blackass by A. Igoni Barrett (Graywolf Press)
The Book of Harlan by Bernice L. McFadden (Akashic)
Britt-Marie Was Here by Fredrik Backman (Atria)
Charmed Particles by Chrissy Kolaya (Dzanc)
The Cosmopolitans by Sarah Schulman (Feminist Press at CUNY)
The Curious Charms of Arthur Pepper by Phaedra Patrick (MIRA/Harlequin)
The Drone Eats with Me: A Gaza Diary by Atef Abu Saif (Beacon Press)
A Hard and Heavy Thing by Matthew J. Hefti (Tyrus Books/F+W)
Heat and Light by Jennifer Haigh (Ecco)
The Honeymoon by Dinitia Smith (Other Press)
The Measure of Darkness by Liam Durcan (Bellevue Literary Press)
Miss Jane by Brad Watson (Norton)
A Mother's Reckoning: Living in the Aftermath of Tragedy by Sue Klebold (Crown)
Orhan's Inheritance by Aline Ohanesian (Algonquin)
Over the Plain Houses by Julia Franks (Hub City Press)
The Readers of Broken Wheel Recommend by Katarina Bivald (Sourcebooks Landmark)
This Is Your Life, Harriet Chance! by Jonathan Evison (Algonquin)
This Side of Providence by Rachel M. Harper (Prospect Park Books)
300 Days of Sun by Deborah Lawrenson (Harper Paperbacks)
The Tsar of Love and Techno: Stories by Anthony Marra (Hogarth)
What Comes Next and How to Like It: A Memoir by Abigail Thomas (Scribner)

The 25-member committee of writers, reviewers, booksellers, librarians, publicists and dedicated readers selected titles "on the basis of their appeal to reading groups, which seek books that open up lively conversations about a myriad of timely and provocative and diverse topics, from the intimate dynamics of family and personal relationships to major cultural and world issues."

Great Group Reads Selection Committee chair Kristen Knox said: "The breadth and diversity of books the Selection Committee has chosen this year delights me--novels and memoirs exemplifying global perspectives which inform and challenge readers. Any and every book club will be able to find wonderful options that work for them no matter what type of book they want to read."

The organization is providing downloadable shelf talkers, table-top posters and other display material. Find the National Reading Group Month Marketing Toolkit at Get Involved. For more general information, go to NationalReadingGroupMonth.org and wnba-books.org.