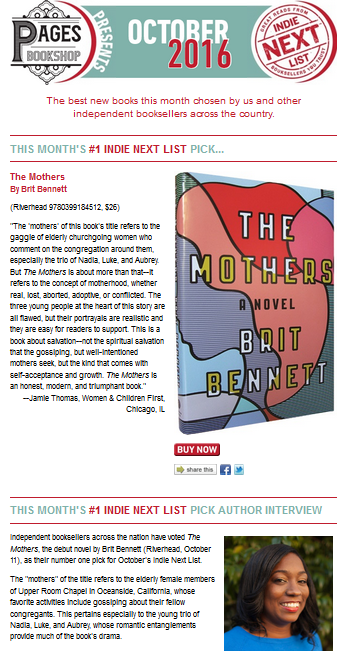 Yesterday, the ABA's e-newsletter edition of the Indie Next List for October was delivered to nearly a quarter million of the country's best book customers.
In the last month, 36 independent bookstores have signed up to have the free e-newsletter sent to their customers, in addition to the 15 pilot stores. Altogether, the 51 stores have 225,648 subscribers.
The e-newsletter, powered by Shelf Awareness, features all of the month's Indie Next List titles, with bookseller quotes and "buy now" buttons that lead directly to the purchase page for the title on the sending store's website. The newsletter, which is branded with each store's logo, includes an interview (from Bookselling This Week) with the author of that month's number-one title. (Click here to see an example of October's newsletter.) Interested bookstores can sign up on bookweb.org or stop by the ABA booth at the fall booksellers association shows or e-mail ABA senior program officer Joy Dallanegra-Sanger.