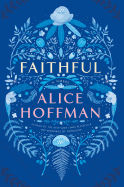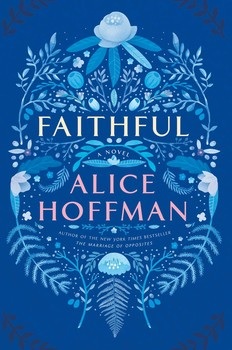 Since the night of the car accident that left her best friend Helene in a coma, Shelby Richmond doesn't believe she deserves to live. Though her physical injuries are minor, Shelby drifts through her days in a state of agonized, drug-addled limbo, paralyzed by the events of that night, feeling both unworthy and unable to start living a life beyond the accident. Alice Hoffman unfolds the slow, rich, heartbreaking story of how Shelby finds her way in Faithful, her 26th novel for adults.

Hoffman (The Marriage of Opposites; The Museum of Extraordinary Things) begins her story in February, when everything is cold, hard and gray on Long Island. The setting matches Shelby's inner life: bruised by her time in a psychiatric ward and shattered by grief and guilt, she hides out in her parents' basement, emerging occasionally to meet a high school acquaintance turned drug dealer, Ben Mink. Despite this bleak beginning, Hoffman gradually draws Shelby out of her deep despair into a life she isn't sure she wants, but comes, over time, to cherish.

Ben, an amateur philosopher, becomes Shelby's boyfriend and her ticket out of their hometown; when the two move to Manhattan together, Shelby begins working at a pet store and, to her surprise, finds herself truly caring for the animals she tends. Visits from Shelby's stalwart mother, the no-nonsense friendship offered by Shelby's coworker Maravelle and her children, and postcards from a mysterious "angel" who witnessed Shelby's accident, also help to tug her forward. The cards arrive at irregular intervals, each one bearing only a pen-and-ink drawing and a two-word phrase: "Say something." "Want something." "Love someone."

Grief and recovery are not linear processes, and Shelby's journey twists and winds like that of any survivor. Hoffman is gentle yet unflinching in her narration of Shelby's triumphs and setbacks: learning to love Maravelle's children, falling head over heels for an unavailable man, taking in several stray dogs, sabotaging her own progress over and over again. Back at home, there are rumors that Helene, lying still in her hospital bed, has acquired mystical healing powers. People travel from miles away to beg for Helene's help, but Shelby knows her friend can't offer the one thing she craves: absolution.

Bittersweet and luminous, Hoffman's novel is a testament to the quiet power of small gestures and gradual redemption. Shelby, Maravelle, Shelby's mother and the postcard-sending "angel" (whose identity is eventually revealed) are deeply flawed and gloriously, achingly human. Hoffman's characters may struggle to believe in themselves, but they find strength--and give it--in their refusal to give up on each other. --Katie Noah Gibson, blogger at Cakes, Tea and Dreams

Shelf Talker: Alice Hoffman's luminous, bittersweet novel follows a young woman struggling to find her way after a shattering car accident.