These relationships matter. These relationships are relationships that matter to me, they matter to my family, they matter to my sons, and I want them to matter. I love the fact that I live in a town that has an independent bookstore.... I believe in our relationship. And I believe in what you do. --Dawn Tripp, author of Georgia, speaking at NEIBA's fall conference about the great relationships she and her family have had with independent bookstores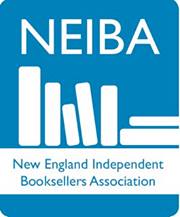 Along with the keynotes, the author breakfasts, the cocktail reception, the awards banquet and conversations in the exhibit hall, the New England Independent Booksellers Association Fall Conference also provided a valuable forum for learning with its education sessions. They were all, in various ways, about relationship-building among booksellers, customers, publishers, sales reps and authors.
"Maybe the best attended session was What Reps See [Check out BPRNE's online photo album from store visits]. People were sitting in the hall! And the room holds 90!" said NEIBA executive director Steve Fischer. "Kudos to two excellent NECBA sessions. And my personal wish for more attention paid to nonfiction was realized in a well-attended panel that included a plea to publishers to push for more Indie Next nonfiction candidates. Even our first shot at an Open Forum with round tables set up so anyone could talk about anything turned out to be lively and informative."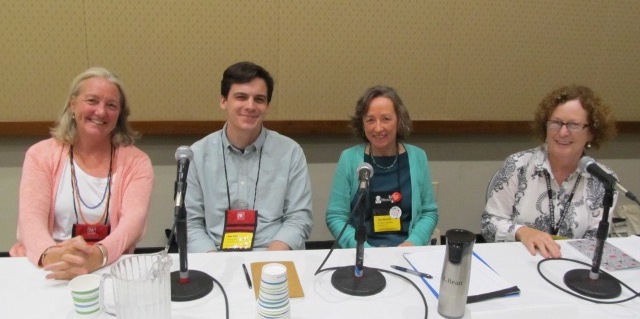 Annie Philbrick, Matt Shaw, Liza Bernard & Dana Brigham
Since it is one of my favorite topics, I couldn't resist the Customer Service session, which featured a panel of "fellow evangelists for superior customer service" that included Annie Philbrick of Bank Square Books, Mystic, Conn., & Savoy Bookshop & Cafe, Westerley, R.I.; Matt Shaw of Oblong Books & Music, Rhinebeck, N.Y.; Liza Bernard of the Norwich Bookstore, Norwich, Vt.; and Dana Brigham of Brookline Booksmith, Brookline, Mass.
Topics ranged from staff training/retraining to store atmosphere to phone etiquette and more, including how to handle difficult customers (Brigham: "One thing I always tell staff is: 'Think of the person in front of you as your beloved grandmother.' ") or the perennial frontline bookseller nametag/T-shirt/apron debate (Philbrick: "Name tags are a little bit tricky.... I don't really care as long as you have something that shows you work here.").
At Brookline Booksmith, each new employee is paired with a trainer for a couple of days to focus on "all things bookstore, with a hefty emphasis on customer service," said Brigham. "All of us look to customer service skills as we're reviewing résumés and as we're interviewing to get a sense of who's likely to be a good customer service person.... In the end, if we don't have the customer service, we don't have the customer. If we don't have the customer, we're in trouble."
Bernard noted that while Norwich Bookstore does have a handbook, "I found that until somebody's been in the store for two or three weeks, it doesn't really make any sense. So they're supposed to read it, and then go back and read it again." She also employs the mentoring technique for new hires: "I don't just have them watch. There's a narrative behind the reason we do things the way we do," she said, citing examples such as why they hold books at the front desk rather than the register, and why they don't give a title when notifying customers by phone that their book is in.
"We hire a lot based on our gut, and feeling whether this person is going to be part of who we are and be able to interact with customers on the floor," said Philbrick, noting that new booksellers begin with shelving. "We found there's so many little things to learn. We tend to teach them when that incident comes up. All the time, we are emphasizing to them that the most important thing is customer service.... You're in a very public space, and you need to be able to greet people and take care of them."
One question generated a lot of discussion: Is the customer always right?
"I think the customer is right in that from their perspective they have a valid whatever-it-is, and our job as customer service providers is to try and get into their head or their heart or their anger, whatever it is that they're giving you, and take it and then massage it and get rid of it," said Bernard, adding that one of the best ways to respond is: "Thank you, I didn't realize this was a problem. Can you say more about it? Okay, I will deal with this.' That's a validation. So while they may not be right, they're valid.... Actually, some of those really high conflict situations, after they're resolved, are more rewarding than some of the easy ones."
Noting that the customer "is right in their experience," but may not be right "in the totality of the situation," Shaw said that "all you can really do is apologize to them for a negative encounter.... And then check in with your booksellers for details."
The idea of store atmosphere as customer service was brought up by Shaw, who observed that "something I always think about in relation to customer service is actually just how the store looks... the general upkeep and maintenance that is so important to how the store looks and feels and, a lot of customers would say, smells when they come in.... That welcoming atmosphere and living room atmosphere that will translate into making a better customer service atmosphere."
"A lot of customers feel this ownership of the store. And you want it to be a comforting place that's clean and light and not too dusty," Philbrick added.
While the patience-testing "parenting styles of some of our customers" can be a challenge in children's sections, Brigham said: "We just go through on an hourly basis... make it a clean, welcoming space again.... That requires quite a lot of tongue biting by our booksellers, but it's important to be nonjudgmental."
Shaw added that "these sweeps through the stores are an excellent way to engage with customers."
Brigham ultimately offered the simplest formula for great bookstore customer relationships: "We want every customer to have a better than expected experience."