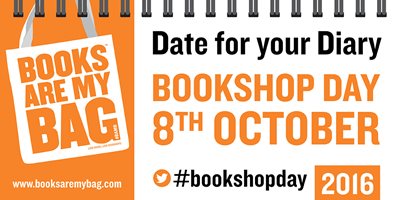 The 2,000 bookstores celebrating the U.K. and Ireland's first Bookshop Day last Saturday had "higher footfall and sales," the Bookseller reported. Sponsored by the Booksellers Association and intended to coincide with the annual Books Are My Bag celebrations, the Day included appearances by "high profile authors, illustrators in residence and customers reading in bookshop windows." Customers were encouraged to tweet their support for bookshops using the hashtag #BookshopDay.
Bookseller Kate Harris of Harris & Harris Books in Suffolk told the magazine, "I have a teeny tiny bookshop but it was crammed full today with lots of delish readers and shoppers. Being such a small shop, it's tricky to have in-house events, but I had a colouring competition hand out, gift wrapping, lots of giveaways, including the amazing BAMB bags and bookmarks. I also had a basket of autumn goodies (the only orange fruit I could find was a bag of satsumas, so I filled up with apples from our meadow and some smashing conkers I found on my walk) to hand out rather than the usual tin of chocolates.... Everyone loved it and my home made sloe gin too. Lots of happy people... suffice to say a grand day was had by all."
Author Ann Cleeves, who attended a "Shetland Afternoon Tea" event at Far from the Madding Crowd bookshop in Linlithgow, Scotland, told the Bookseller: "We must celebrate our bookshops--they have been vital during my thirty-year career. After all, nothing beats an expert book recommendation. Like libraries, bookshops have the power to open doors to other worlds. We must cherish them--everyday."