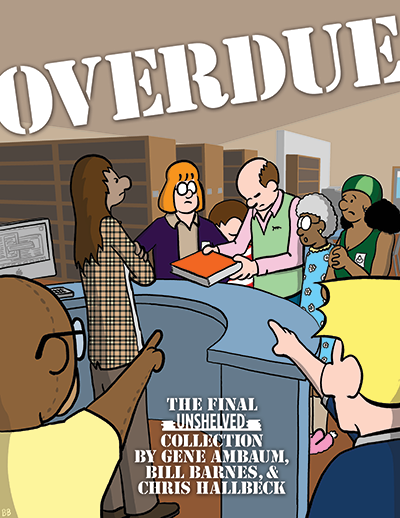 After almost 15 years, Unshelved, the daily online comic strip set in a library, is winding down. As of November 11, Gene Ambaum and Bill Barnes will stop making new Unshelved comic strips and will publish "classic" strips.
In an announcement about the change, they remembered: "When we published our first strip on February 16, 2002, the iPhone was just a glint in Steve Jobs' eye, Facebook was years away from reuniting anyone with their high school sweetheart, and tweeting was still exclusively for the birds."
They called their experience "a madcap journey. After a few years we had enough readers that we both decided to gamble by quitting our day jobs to try doing this cartooning thing full-time. It was harder work than we expected. There were many years when we were on the road, away from our families, for weeks at a time, giving talks and selling our books and merchandise at library conferences and comic conventions."
Besides 4,500 strips, the pair created Pimp My Bookcart, merit badges for librarians, a thumb drive in the shape of a card catalogue, many T-shirt designs, the library notebook, the library raid jacket and full-length comic adventures about BEA, an evil bookmobile and a blackout.
In April, Barnes left to take a break from cartooning, but he'll return to draw and co-author the last week of strips.
For his part, Ambaum is "cooking up both a new webcomic and a new book review site we think you'll like, and he'll let you know when they're ready for prime time."
In a kind of a celebration, Unshelved is coming out with its largest collection ever, called Overdue (the original name of the strip), with more than two years of strips. It's available here.