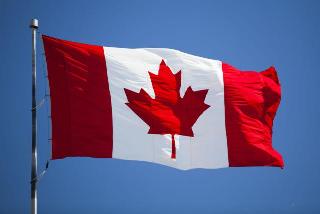 Canada will be guest of honor at the 2020 Frankfurt Book Fair. Mélanie Joly, Minister of Canadian Heritage, and fair director Juergen Boos signed the contract for the country's participation last week.
"There is strong international interest in learning more about Canadian publishers, authors, culture and media," said Boos. "Canada brings to the world stage a strong commitment to its bilingual tradition and embraces the diverse immigrant cultures that contribute to its society. We are pleased that Canada accepts this invitation to showcase its rich literary, cultural and linguistic heritage to global industry representatives."
Joly added that the Canadian government "is committed to ensuring that readers everywhere have access to a wide range of Canadian-authored books, and I look forward to showcasing Canada's book industry--as well as our country's artistic and cultural sector--at the Frankfurt Book Fair in 2020. This is a fantastic opportunity to enable Canada's artists and cultural entrepreneurs to maximize their full export potential, to help increase their competitive position on the international stage, and to ensure long-term sustainability, which will contribute to Canada's overall economic and social prosperity."