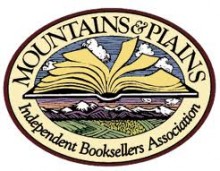 After all these years and all these regional fall book conferences, I think I've become an accomplished collector of quotations from guest authors expressing their appreciation for independent booksellers. Last week, during the Mountains & Plains Independent Booksellers Association Fall Discovery Show in Denver, I had the chance to add some vintage quotes to my collection and to reflect on the extended family that is indie bookselling, a "region" without boundaries.
It is a growing family. The 2016 MPIBA show had 221 booksellers in attendance, a solid number helped by the addition of 15 new bookstores. "Both the board of directors as well as myself were elated by the turnout and success of this year's Fall Discovery Show," said executive director Laura Ayrey. "With the onslaught of so many new booksellers this year you could feel the excitement in the air in the exhibit hall and at the author events. They were soaking up every bit of knowledge they could from our seasoned booksellers. I feel confident in saying it was our best show yet."
Anne Holman of the King's English Bookshop, Salt Lake City, Utah, summed it up nicely at the General Meeting when she said, "Bookselling is a nice family to be in."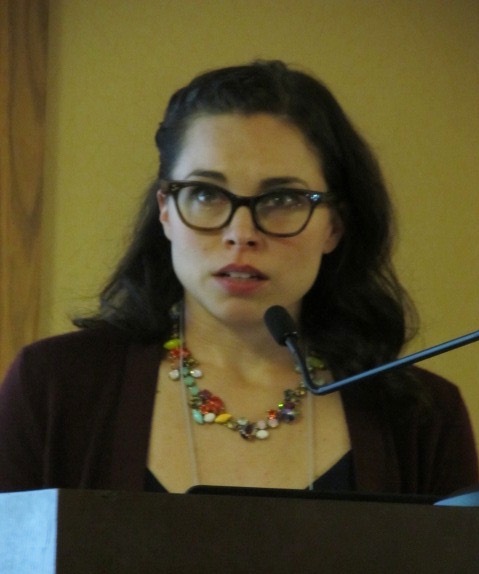 Erin Stead
The notion of an extended bookselling family occurred to me when I heard Erin Stead (The Uncorker of Ocean Bottles) recount her bookselling days at Books of Wonder in Manhattan during the Children's Author & Illustrator Breakfast. "I think that booksellers are my family, and that sounds really disingenuous, I guess, but the truth is that I still consider myself a bookseller first and not an illustrator," she said. "If you're wondering, I still go into stores and front and face compulsively."
At Books of Wonder, Stead "worked with some wonderful people who are all still my friends today. And without these people I wouldn't be published.... Working in the store was the greatest education I had for my job.... My first two days they just put a thousand picture books in front of me and said we want you to read all of them and figure out what you like, figure out what you don't like, and figure out why. And it was the best thing I could have gotten. And then at the end I had to shelve them all.... It was a wonderful education."
During the Author Banquet, T.C. Boyle (The Terranauts) expressed his gratitude to indie booksellers "for supporting my book from the very beginning when I was known only to my mother, wife and daughter. Speaking of that daughter, by the way, she works at Skylight Books in L.A." He recalled an event a couple of years ago for his collected stories at which "she introduced me, but, more than that, I read one story, and she read one, too." Boyle also noted that his connection to the indie bookseller family continues to deepen: "I know many of you; I've been to your stores, and I hope that I will continue to do that."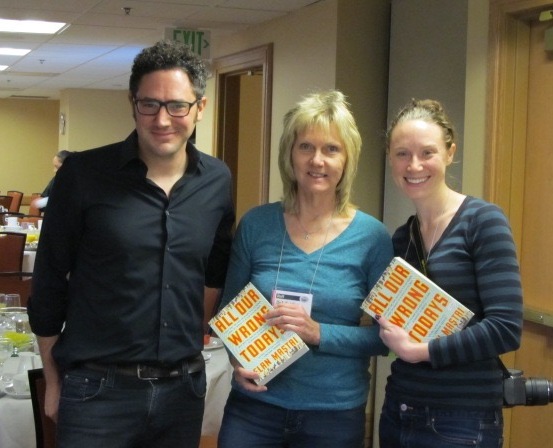 Author Elan Mastai with MPIBA show volunteer Deb Slater & show photographer Tori Henson
Elan Mastai (All Our Wrong Todays), a speaker at the Author of Future Releases Breakfast, said: "One of the reasons it's lovely to be here meeting booksellers from around the area is my local independent bookstore, Book City in Toronto. I'm there like every other day.... Probably half the books I buy are because they're just handsold to me by one of the folks who works at the bookstore, like Kylie or Graham or Stacey.... Independent bookstores are a huge part of my life. For me, that's the place that I'm happiest.
"Every time I go to a new city, I always end up in a bookstore. My wife is an avid reader as well, though not quite as obsessive as I am. She's like, 'They have the same books back home.' It's not the same! Because you go to an independent bookstore and it's a vibe. They have certain books that they're going to highlight. I love the handwritten notes. I love talking to people about the books that I wouldn't expect. Maybe it's a local author. Maybe it's an international author.... So I just want to say that you guys are doing the good work out there and I really appreciate it. It makes my quality of life a lot better."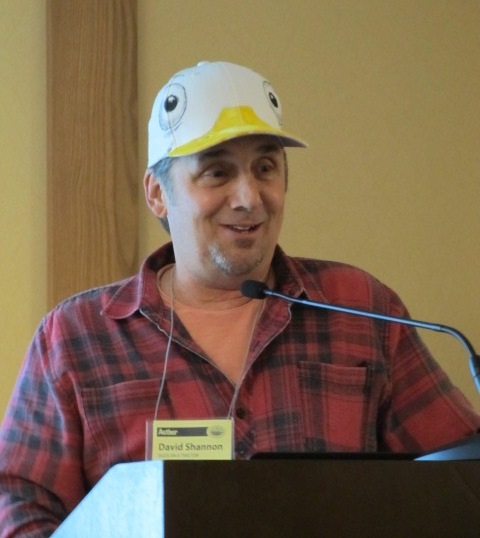 David Shannon
David Shannon (Duck on a Tractor), noted that his book Duck on a Bike "came out a long time ago," but a sequel was possible because "thanks to you guys it was still selling; it was still in the hands of kids; it was current enough for OneBook 4 Colorado to choose it. And that's all independent bookstores and school libraries that are doing that. So we decided we could do the sequel. I would just like to thank you right now personally for allowing me to do this book." He apologized for having to leave immediately after the event to visit his daughter in college. She had been the inspiration for his 2004 book Alice the Fairy. "She's all grown up," he said. "So thank you for being my friends for the whole life of my kid."
All just a part of being in an extended family, bookseller style. More on MPIBA's Fall Discovery Show 2016 in next week's column.