This year Litquake--the two-week Bay Area festival that hosts book-related events in varied venues, including bars, bookstores and laundromats--extended its annual Barbary Coast Awards to nine categories, including "Bookstore Hero" and the "Kathi Kamen Goldmark Award for Community Impact."
Before last week's awards ceremony in the recently renovated Herbst Theatre, Litquake co-founder Jane Ganahl said the organization had wanted to honor Goldmark, the legendary literary escort, author, musician and cheerleader for all creative pursuits, because she was so supportive of the festival from its inception in 1999 through her death in 2012.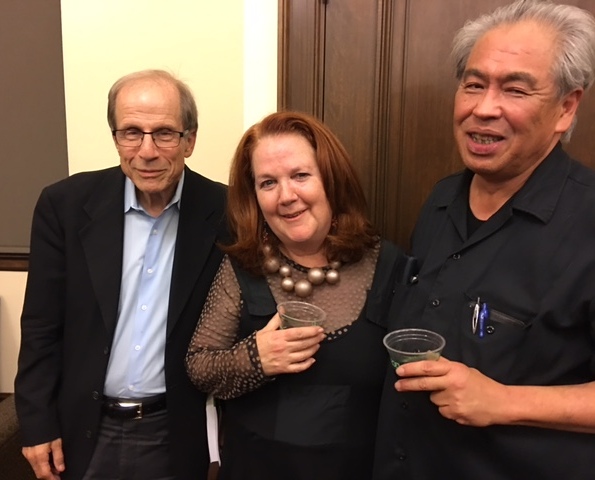 (l.-r.) Michael Krasny, Jane Ganahl and Paul Yamazaki at a pre-awards reception.
Sam Barry walked on stage to present the award playing harmonica along with the Patrick Wolf Quartet because, as he said, "he couldn't give an award named for Kathi Kamen Goldmark without a little music." Barry listed his late wife's many accomplishments, which included two decades working as a literary escort, two novels and several nonfiction books, including one the couple wrote together. But he said he did not have a word for her "most unique talent": the ability to walk into any setting and get people to do things they never thought they would do, like the creation of the Rock Bottom Remainders, which put bestselling authors on stage in a band that has raised millions for charity.
Barry then presented the award to Michael Krasny (Let There Be Laughter: A Treasury of Great Jewish Humor and What it All Means), host of the daily two-hour talk show Forum that airs on KQED and is syndicated internationally. Krasny, who knew Goldmark throughout his career in radio, said, "Kathi was a beauty with a vivacious spirit and I got to tell her that before she died," he said. "And she will be remembered for the rest of my life."
Elaine Katzenberger, executive director and publisher at City Lights, presented the "Bookstore Hero" award to her colleague Paul Yamazaki, the longtime head buyer at the San Francisco store. "If you've walked into City Lights Books in the last 30 years," said Katzenberger, "the experience you had there was pretty much handed to you by Paul Yamazaki." With its history steeped in the Beats and for so many other reasons, City Lights is an institution, and Katzenberger said it "remains a cultural touchstone" because of Yamazaki and his team of book curators.
"I consider myself the luckiest person on the planet," said Yamazaki. He observed that the evening's awards and awardees represent so many of the people and institutions along the steps between writer and reader, and that Litquake, which draws thousands of readers, proves that people are still very much interested in books.
The other 2016 Barbary Coast Award honorees: "Literary Legends": Maxine Hong Kingston and Alejandro Murguía; "Literary Publication": the Threepenny Review; "Literary Institution": the Bancroft Library; "In Memoriam": Justin Chin; "Castro Vanguard": Jewelle Gomez; and Thomas Sanchez received the "California Classic" award for his novel Rabbit Boss. --Bridget Kinsella