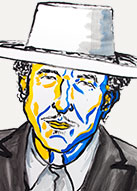 image: N. Elmehed/Nobel Media 2016
Newly minted Nobel Literature Laureate Bob Dylan has not yet responded to the Swedish Academy's attempts to contact him directly, BBC News reported. He has also not commented publicly, though a brief post on his Facebook page did acknowledge the award last week.
"Right now we are doing nothing," said Sara Danius, permanent secretary of the academy. "I have called and sent e-mails to his closest collaborator and received very friendly replies. For now, that is certainly enough."
Dylan is the first person to receive the award for songwriting and the first American to win since Toni Morrison in 1993. BBC News wrote that it is not known yet "whether the singer-songwriter will travel to Stockholm to receive his award in person" on December 10.
"If he doesn't want to come, he won't come," Danius said. "It will be a big party in any case and the honor belongs to him."