Here's a small sampling of indie bookstore Halloween treats posted on social media yesterday:
Bookshop Santa Cruz, Santa Cruz, Calif.: "Bookshop Santa Cruz will be dispensing candy to Downtown Trick-or-Treaters til 5! Happy Halloween."
Tattered Cover Book Store, Denver, Colo.: "Candy? Candy!!! We have plenty of goodies for trick-or-treaters today, so make a stop as you head around the neighborhood!"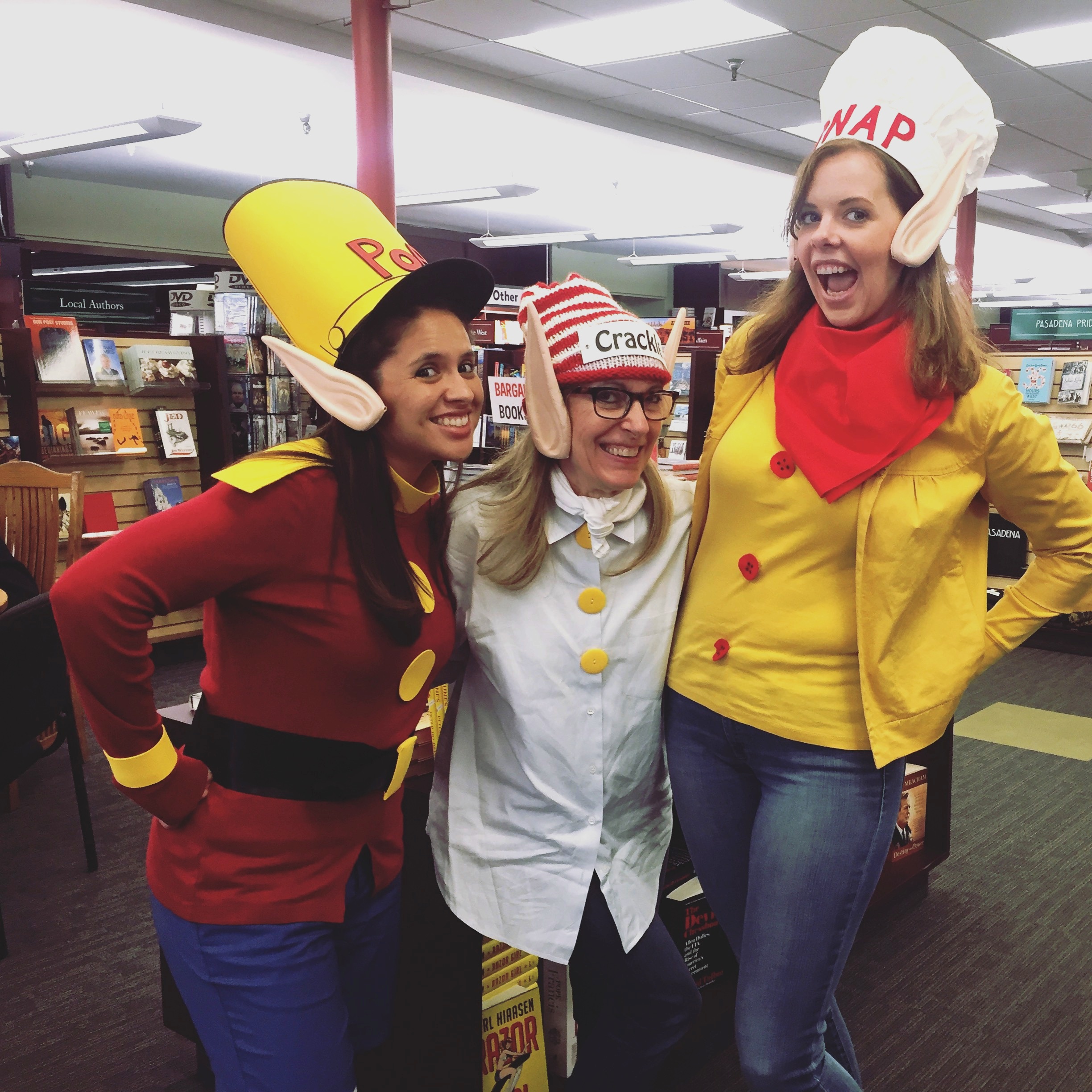 Booksellers at Vroman's in Pasadena, Calif.
Changing Hands Bookstore, Tempe & Phoenix, Ariz.: "We are what we read. Literally. #BookishHalloween."
LittleRotting Bksore (a.k.a. Literati Bookstore), Ann Arbor, Mich.: "Happy Halloween! Stop by in your boooooook themed costumes and win Literati gift cards!"
Green Apple Books, San Francisco, Calif.: "Come and get it kiddies. Happy Halloween from #greenapplebooks!!"
Belmont Books, Belmont, Mass.: "Just business as usual for us on Halloween. (Though this guy may be a little overdue for his lunch break.) #HappyHalloween."

Elliott Bay Book Co., Seattle, Wash.: "Five-dimensional werewolves. Of course. #BooksellerCostumes." And: "Mary Mojo Risin' #BooksellerCostumes."
Lake Forest Book Store, Lake Forest, Ill.: "Trick or Treat in the store today--Scary Cute!"
The Well-Read Moose, Coeur d'Alene, Idaho: "Come trick or treat at The Well~Read Moose!"

Trident Booksellers & Café, Boston, Mass.: "Our staff really pulled out all the stops for our annual costume contest, judged by you! Congrats to our winners, Adam and Liz!"
Old Firehouse Books, Fort Collins, Colo.: "Look who dropped in to help hand out candy! Princess Belle is here from the #FortCollinsChildrensTheatre."
Copperfield's Books, with eight locations in northern Calif.: "Happy Halloween from Copperfield's Books! Can you spot your favorite bookseller in disguise?"
Liberty Bay Books, Poulsbo, Wash.: "Cute costumes at the start of #Goulsbo Halloween in Poulsbo, Washington."
Waucoma Bookstore, Hood River, Ore.: "Happy #Halloween--we're here until 7 p.m.! #downtown #hoodriver #safehalloween."