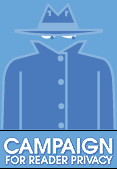 The Campaign for Reader Privacy--a joint initiative of the American Booksellers Association, the American Library Association, the Association of American Publishers and PEN America--has received a letter from Deputy Assistant Attorney General Stuart J. Evans that reaffirms "protections for the privacy of bookstore and library records that may be targeted under Section 215 of the USA Patriot Act."
The CRP had asked Attorney General Loretta Lynch to reaffirm the policy adopted in 2010 by her predecessor, Eric Holder, that "prevents searches of the records of bookstore customers and library patrons who are not suspected of terrorism."
Section 215 of the original act, signed into law in October 2001, allowed the government to search all records "relevant" to a terrorism investigation. As the CRP wrote, "Since almost any record can be considered 'relevant,' there was concern that Section 215 would have a chilling effect on readers who might not feel free to read what they want if they believe the government is looking over their shoulder."