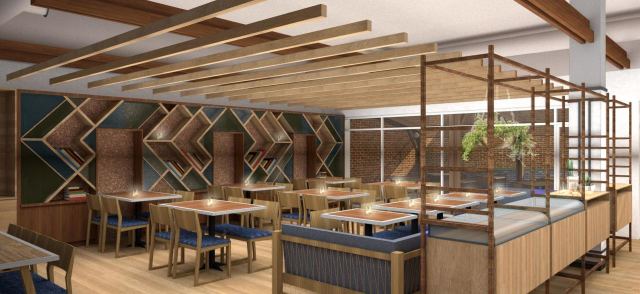 Artist's rendering of B&N's new cafe.
"Those looking to browse for books and relax with a glass of wine or beer at Barnes & Noble's new location will have to wait," the Journal News reported. The bookstore chain had initially projected an October opening for its first "concept store," featuring a restaurant with an expanded menu, along with beer and wine, at Vernon Hills Shopping Center in Eastchester, N.Y., but now expects the space won't be ready until December.
Mary Ellen Keating, B&N's senior v-p of corporate communications & public affairs, said the Eastchester store was expected to open first, followed by four other locations: Edina, Minn.; Folsom, Calif.; Loudon, Va.;and Plano, Tex. Current plans call for three of the stores to open before the end of the year. "It takes time and we're working on three of them," Keating said. "This is a whole new concept and it's just taking time. We won't open until it's perfect."