Ntozake Shange is this year's recipient of the City College of New York's Langston Hughes Medal, which recognizes "highly distinguished writers from throughout the African American diaspora for their impressive works of poetry, fiction, drama, autobiography and critical essays that help to celebrate the memory and tradition of Langston Hughes." She will receive the award November 17 during the Langston Hughes Festival.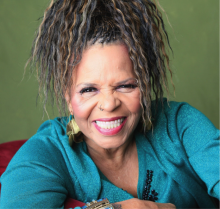 Ntozake Shange
Shange has written 15 plays, 19 poetry collections, six novels, five children's books, three collections of essays, and a memoir called Lost in Language & Sound. Her landmark theater piece For Colored Girls Who Have Considered Suicide/ When the Rainbow Is Enuf was a Broadway success in 1976-1977 and won an Obie while still off-Broadway at the Public Theater. For Colored Girls... has been performed continuously since then both in the U.S. and abroad, has remained in print since its publication in 1974 and was made into a movie by Tyler Perry in 2010.
Retha Powers, director of the Langston Hughes Festival, said that Shange "is one of America's greatest living writers--an acknowledged master in the genres of drama, fiction, memoir, and poetry. Shange was raised mainly in Trenton, N.J., and St. Louis, Mo. In her childhood, she was affected deeply by the Civil Rights Movement and forced school busing. Later, attending Barnard College in the late 1960s, she came under the influence of a wide variety of radical movements, including the antiwar Vietnam protests, feminism, the black arts and black liberation movements, the Puerto Rican liberation movement, and the Sixties sexual revolution. She later became a voice for these social justice movements, but above all she spoke for, and in fact embodied, the ongoing struggle of black women for equality, dignity, and respect for their enormous contribution to human culture."