Atlantis Books, located on the Greek island of Santorini, has been a fixture on "most beautiful bookstores of the world" lists almost since its founding in 2004 by a group of friends from Cyprus, England and the U.S.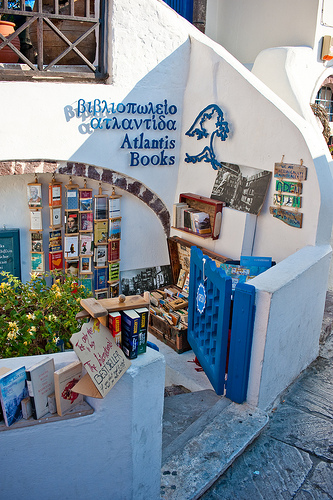 In a detailed profile, Vanity Fair reported that the iconic bookshop faces a "new threat to its existence." In October 2015, the building's owners "obtained the construction permits they needed to build on top of the store's terrace--a development that abruptly increased their property's value. [Bookshop co-founder Craig] Walzer was welcome, [Dimitris] Theodoropoulos said, to buy the property for a million euros, roughly 700 times his monthly rent. But he needed to get back to the landlords in two weeks. Otherwise, Atlantis Books would be required to pack up and get out by November." A year later, the bookstore "remains open in the same space and, this past summer, enjoyed its most profitable season yet. Still, Atlantis Books finds itself at a crossroads."
"The guys from Atlantis will have first priority. I'd like to work with them," Theodoropoulos said. "But we've got to get a plan by the end of the year." The plan would require a down payment of "maybe half a million euros," he said, but he would be willing to structure further payments so the Atlantis group would pay no interest "for a couple of years."
Among the options Walzer is considering are crowdfunding, reopening Atlantis Books in a new location in Oia, or "the principals of Atlantis Books declare that it's been a hell of a run, but, indeed, times have changed, and now we're going to call it a day," Vanity Fair wrote.
"I have this part of me that still feels the same as when I was in my 20s," Walzer said, "which is that the shop is awesome, but it isn't necessarily enough. That I need to be doing something more important, addressing bigger problems.... I'm 35. I'm not a kid anymore. I'm also not the most employable character in the world. At this point, what I've learned is there is one thing that I know how to do better, humbly, than anybody else in the world right now, which is sell books on this street, in this village, on this island, in this country."
While his co-founders stand ready to follow his lead, Tim Vincent-Smith said, "I certainly don't think this is the point to say, 'Oh well, it was a good laugh, but let's let it go.' I think this is the point to say, 'This crazy dream that we had as a bunch of kids--it works!' And it doesn't just work as an art project but as a business. If we lose the building, who cares? The building is just a pile of stones. This is an idea--close to an ideology, dare I say."