In what Oregon Public Radio called "a stunning upset," Chloe Eudaly, owner of Reading Frenzy bookstore, won a seat on the Portland City Council, defeating incumbent Steve Novick, making her the first challenger to defeat a city commissioner since 1992.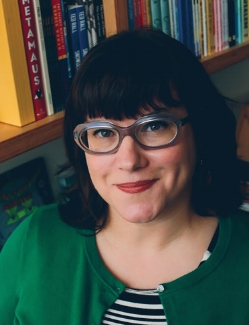 Chloe Eudaly
OPD said that Eudaly "built a strong grassroots campaign tapping into the fear and frustration of Portland residents displaced by rapidly rising rents and home prices." Eudaly wants an immediate rent freeze, an end to no-cause evictions and some kind of rent control. She was endorsed by Willamette Week, the Portland Mercury and former Mayor Tom Potter.
Eudaly won after raising $85,000 for the campaign, compared to Novick's $422,000. She told OPR: "I'm scrappy and resourceful. I come from a very grassroots do it yourself background, so we were able to make those dollars stretch farther than a candidate running a typical campaign. We were out connecting with individuals, and not courting a relative few big-money donors."
Eudaly's campaign manager, Marshall Runkel, said that social media, particularly Facebook, helped the effort. (She created a Facebook group, The Shed, where people have shared stories about struggles in the rental market.)
Founded 22 years ago, Reading Frenzy focuses on independent, small press and self-published titles, and is home to Show & Tell Press and Minikin Gallery.