With just under two weeks to go until Small Business Saturday and Indies First, independent booksellers around the country are finalizing their plans for the all-day celebration.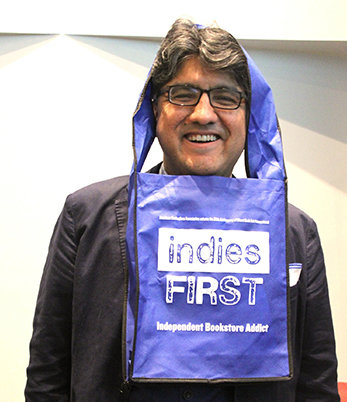 In a likely first for the now-annual tradition, author Sherman Alexie, who, in 2013, proposed the idea of turning Small Business Saturday into Indies First, plans to rent a party bus for November 26 and invite Seattle authors, musicians, politicians, filmmakers, activists and journalists to join him as he travels to as many indie bookstores as possible. He called the idea a "celebration road trip!"
Baker & Taylor, meanwhile, is offering a special discount on all trade books between November 20 and December 3 "to help ABA member bookstores in the United States have a successful Small Business Saturday," and various publishers are also offering ABA members special Indies First discounts.
Kona Stories in Honolulu, Hawaii, will celebrate its 10th anniversary on Indies First/Small Business Saturday. Owners Brenda Lea McConnell and Joy Vogelgesang have created a Kona Stories T-shirt for the occasion; the shirt costs $20, and customers who wear it that day will receive 5% off their purchases. The festivities will also include free Grinch photos, free gift wrap, birthday cake and sangria, prize giveaways and live music.
In McMinville, Ore., Third Street Books is partnering with other local, independent businesses to create a Small Business Saturday passport. Shoppers can get a passport from any participating merchant, and anyone who fills a passport and turns it in will be eligible for prizes. Third Street Books has created special tote bags, and for every $50 spent at Third Street Books that day, shoppers will receive a $10 gift certificate. Also there will be a special story time for children, with "some swag designed for the littles in your life."
Jill Hendrix, owner of Fiction Addiction in Greenville, S.C., reported that on Indies First, instead of having authors work in the store, she'll showcase local, self-published authors with signings throughout the day. Said Hendrix: "It's just a celebration of local."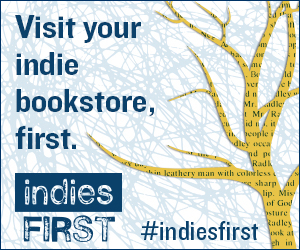 In Salt Lake City, Utah, the King's English Bookshop will continue its tradition of taking 15% off everything in store from Black Friday until the following Saturday. The store is located at 15th and 15th, and the sale is a way of thanking customers for shopping locally. For Indies First itself, the King's English will host a storytime session with the Salt Lake Acting Company, and eight local authors will work as booksellers throughout the day.
Skylight Books in Los Angeles, Calif., will have six authors volunteering as booksellers on Small Business Saturday, and each author will write shelf talkers for the store so that, in effect, they can continue to recommend books even after their two-hour shifts are over. There will be discounts on a small selection of titles, and any customer who spends $100 or more that day will receive a free Skylight Books tote bag. Snacks will be available all day, starting with donuts and juice in the morning. Mary Williams, the store's general manager, said that in the past, Skylight didn't have particularly strong Thanksgiving weekends, but now the holiday shopping season begins with a celebratory bump rather than a slow ramp-up.
On the 26th, WORD Bookstore will host Indies First events at both its Jersey City, N.J., and Brooklyn, N.Y., locations. In Jersey City, local authors will be on hand to sell their books and chat with customers, with meet and greets scheduled throughout the morning, afternoon and evening. The plan is similar for the Brooklyn store, though with the addition of donut holes and mulled cider. --Alex Mutter