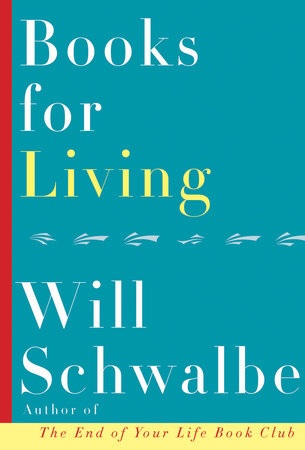 In his first memoir, The End of Your Life Book Club, Will Schwalbe took readers on a tour through what he read and discussed with his mother, Mary Anne, as she was dying of pancreatic cancer. Both mother and son were voracious, casual readers, as likely to pick up a book on a whim as to seek one out for a specific or profound purpose. Their shared joy in reading, and Schwalbe's account of it, resonated with thousands of fellow readers.

In his second memoir, Books for Living, Schwalbe presents a collection of brief, insightful essays on the titles that have transformed his life: classic novels and children's stories, esoteric volumes of Chinese philosophy and practical writing advice. He begins with an unusual but aptly titled choice: The Importance of Living by Lin Yutang, a text of idiosyncratic philosophy and advice for living, published in the 1930s by a Chinese man who later lived in the U.S. and Europe. Lin's work reappears several times throughout Schwalbe's narrative, as he describes his library and the memories associated with each book in loving detail.

Schwalbe considers them through the lens of a particular topic: Searching (Stuart Little), Remembering (David Copperfield), Being Sensitive (Anne Lamott's Bird by Bird). Along the way, he shares memories both amusing and poignant, and celebrates the ability of books to provoke, delight, inform and raise questions (or answer them) at the right time. For example, he finds nourishment in Edna Lewis's The Taste of Country Cooking, both in her recipes and in the food culture she describes. Reading The Gifts of the Body, Rebecca Brown's novel of a home health-care worker tending to AIDS patients, sparks Schwalbe's own painful memories of the AIDS epidemic as a young gay man living in Manhattan and volunteering for Gay Men's Health Crisis. Not every title prompts such difficult reflections, but all of them give Schwalbe a way to make meaning of what has happened to him, or to appreciate profound truths expressed well in a handful of words.

"Has any book saved my life?" Schwalbe wonders during his chapter on Azar Nafisi's Reading Lolita in Tehran. "I think it would be more accurate to say that books... helped me choose my life.... Books saved the life I have." For readers who understand this sentiment, Books for Living is a field guide to a handful of titles that might entertain, stir up trouble, or--yes--even save the life a reader already has. --Katie Noah Gibson, blogger at Cakes, Tea and Dreams

Shelf Talker: Will Schwalbe, editor and voracious reader, shares witty, warm, insightful essays on books that have resonated throughout his life.