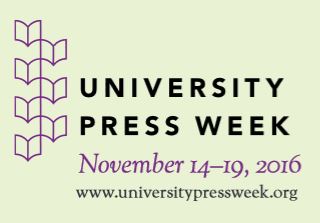 The theme of University Press Week, which begins today and runs through Saturday, November 19, is "community: from the community of a discipline to a regional home and culture, from the shared discourse of a campus to a bookstore's community of readers."
Using the #ReadUP hashtag, Association of American University Press members are highlighting the best of what university presses are publishing as well as a variety events and webinars this week. They include:
A webinar called Serious Books for the Serious Reader, on Wednesday at 2 p.m. Eastern. Moderated by Fredric Nachbaur, director, Fordham University Press, the panel consists of Jeff Deutsch, director, Seminary Co-op bookstore, Chicago, Ill.; Brady Dyer, manager of marketing and communications, University of Texas Press; Lanora Haradon, Midwest rep, MIT Press, Princeton University Press and Yale University Press; Kurt Hettler, director of Ingram Academic Services. Click here for live-streaming information.
A panel on How to Publish with a University Press, on Thursday at 7 p.m. at Book Culture bookstore, 536 W. 112th St. in New York City. Topics will include the role of the university press in book publishing today, the difference between university presses and trade publishers, what writing for a university press means for one's academic career, and everything from how to submit a proposal to what to expect during the publishing process.
A webinar titled Social Media as an Acquisitions Tool, on Friday at noon. Participants include Gregory Britton, editorial director, John Hopkins University Press; Elizabeth Demers, senior editor, Johns Hopkins; Sara Pritchard, associate professor of history, Cornell University; Gita Manaktala, editorial director, MIT Press; Patricia Matthew, associate professor of English, Montclair State University; and Roopika Risam, assistant professor of English, Salem State University. To live stream, click here.