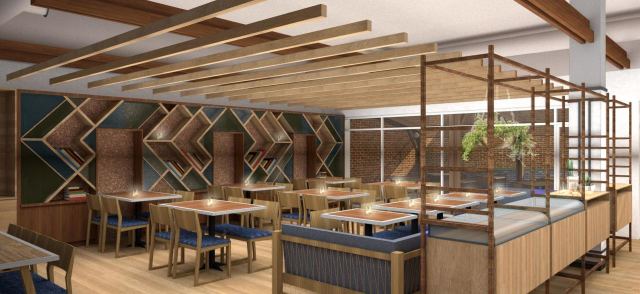 Artist's rendering of B&N's new cafe.
The first new concept Barnes & Noble, in Eastchester, N.Y., originally scheduled to open last month and then postponed until December because of construction delays, will open next week, the Eastchester Daily Voice reported. The grand opening is now set for next Tuesday, November 22.
The new B&N, in the Vernon Hills Shopping Center, will feature a full-service, 2,600-square-foot restaurant that serves alcohol. B&N plans to open similar stores in four other locations: Edina, Minn.; Folsom, Calif.; Loudon, Va.; and Plano, Tex., most by the end of the year.
According to B&N earlier this year, the new concept stores will be about 20%-25% smaller than the company's traditional superstores, and besides the restaurants will include more seating and tables. B&N estimates that books will represent approximately 60% of revenue.