photo: Benedicte Verley
Thalia Field's sixth book, Experimental Animals (A Reality Fiction), is published by Solid Objects (November 1, 2016), a work of historical fiction that explores the 19th-century origins of the laboratory (and experimentalism in science and the arts) through the dysfunctional marriage of physiologist Claude Bernard and his anti-vivisection activist wife, Fanny. Field has three previous collections with New Directions press.

On your nightstand now:

Kamel Daoud's The Meursault Investigation. This book is an extraordinary work of literature that proves the dialectic and living nature of art, and how artists are never isolated from conversation through the work.
The Law Is a White Dog by Colin Dayan. I'm fascinated by this incredible work on the legal construction of persons, and how these questions affect everyone, animal and human alike.
Lao Tzu: Tao Te Ching, a new translation by Ursula K. Le Guin. This is one of my favorite books to read and reread and this new translation is lovely.

Favorite book when you were a child:

Early childhood:
Dr. Seuss as read to me by my grandmother. I think the rhymes went in deep and never left. As did the attention to the world's absurdities.
Harriet the Spy by Louise Fitzhugh. Cliché but true: I actually got my first notebook because of this book.

Mid-childhood:
All Creatures Great and Small by James Herriot. I may have read this 15 times. If I could stand the sight of blood, I would have been a vet.
Archy and Mehitabel by Don Marquis. First read to me by my father, it became my favorite of all verse forms for many years.
Every Peanuts cartoon I could get my hands on--self-explanatory.

Early adolescence:
The Painted Bird and Being There by Jerzy Kosinski. I remember years later reading about a scandal or something about Painted Bird. At the time, it was the most affecting book I'd read.
The Sirens of Titan and Cat's Cradle by Kurt Vonnegut. This writer seemed to understand the logic of the absurd universe, and how humans barely grasped any of it.
Collected Poems by E.E. Cummings. My favorite poet for many years. It may have resulted in many pathetic imitations on my part.
Then I basically started listening to Bob Dylan and hundreds of songwriters, both in popular music and those who wrote musicals, as though they were writing the greatest literature.

Your top five authors:

1. Virginia Woolf, most especially for her hybrid work Three Guineas, which gave me all sorts of permission about argument through literature.
2. James Joyce permitted me to experiment with language, clowning, absurdity.
3. Ralph Ellison showed me the beauty of politics and abstraction, and that they are not always opposed.
4. Nathalie Sarraute permitted me to do away with description and allow for the voices.
5. Samuel Beckett: Humor. Absurdity. Human foible. It's all there.

Still writing:
1. Anakana Schofield, one of the most engaged and humorous writers today.
2. Renee Gladman. Thinking through gesture, language, abstraction and human mystery: she's incredible.
3. Mac Wellman, pure joy of language, and the politics of absurdity (or absurdity of politics).
4. John Weidman. Permission for paragraphs and sentences that span all time.
5. John D'Agata, who gives generous examples of imaginative essays, combining poetry and research into large structures.

Book you've faked reading:

The Bible.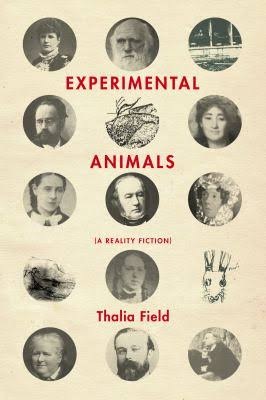 Book you're an evangelist for:

Vicki Hearne's books Adam's Task and Bandit. I recommend these more than anything else because our relationships to animals are so confused.

Book you've bought for the cover:

Hyperbole and a Half by Allie Brosh. Bought for the cover, stayed for the genius.

Book you hid from your parents:

Richard Pryor comedy albums.

Book that changed your life:

The I Ching. I started throwing and reading almost by accident. Then 10 years went by and everything (and nothing) changed.

Favorite line from a book:

Guildenstern: Death is the ultimate negative. Not-being. You can't not-be on a boat.
Rosencrantz: I've frequently not been on boats.
Guildenstern: No, no, no--what you've been is not on boats.
--from Rosencrantz and Guildenstern Are Dead by Tom Stoppard

Five books you'll never part with:

My worn copy of Gertrude Stein's Collected Works. At least once a week I have to go reread something.
My falling apart copy of James Baldwin's The Fire Next Time. At least twice a year I have to go reread.
My ancient copy of Howard Zinn's A People's History of the United States. I don't even know who I'd be without this book.
Banksy's Wall and Piece. I have to be able to incorporate the belief in public space and public art as a constant possibility.
Andy Warhol's The Philosophy of Andy Warhol. It makes me laugh and reminds me I don't know who I am at all.

Book you most want to read again for the first time:

John Cage's Silence. I can't quite regain the sense of total wonder and permission that reading this book first gave me. Its wisdoms and humor haven't lost their edge, though.