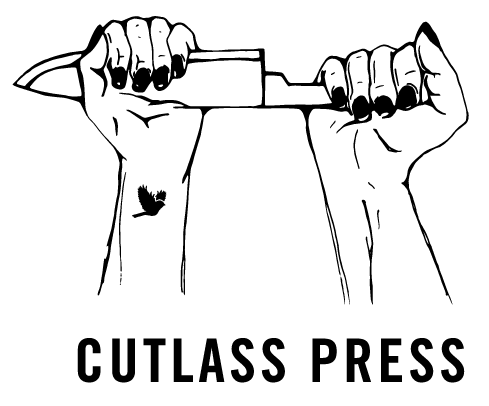 With the publication of musician Rick Berlin's memoir, The Paragraphs, Papercuts J.P. in Boston, Mass., has joined the ranks of independent bookstores with their own publishing imprints. Called Cutlass Press, the imprint's mission is to publish work in any genre or format that is "unique, diverse, entertaining and subversive." Kate Layte, the owner and manager of Papercuts J.P., is the press's publisher, while Katie Eelman, the store's events and media coordinator, is editor-in-chief.
"Publishing was part of my original business plan for Papercuts," recalled Layte. Last fall, Layte and Eelman published The Papercuts Anthology: Volume 1, a collection celebrating the store's first year, and after that, Layte continued, "we realized we had the audience, the tools and the skillset to make it happen."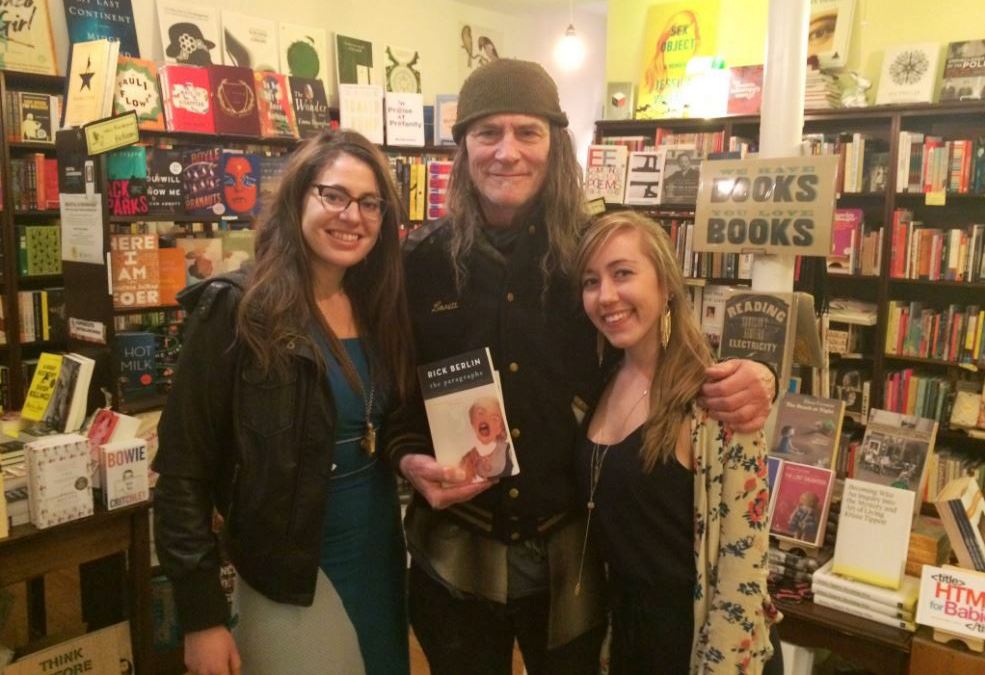 (l.-r.) Kate Layte, owner of Papercuts J.P. and publisher of Cutlass Press; Rick Berlin, author of The Paragraphs; Katie Eelman, editor-in-chief of Cutlass Press.
Eelman and Layte plan to publish 3-5 titles per year. Upcoming releases include debut crime novel Ragged; or, The Loveliest Lies of All by Christopher Irvin; The Papercuts Anthology: Volume 2; short story collection A Dream Between Two Rivers: Stories of Liminality by K.L. Pereira; and an as-yet untitled memoir from local author Stacey Dyer, who published AstroWed: The Universe's Most Kickass Wedding Planning Workbook earlier this year.
"In our time as booksellers, we've encountered countless voices that don't have amplification," said Eelman. "We want to amplify these voices and bring into the world literature that's accessible, entertaining, diverse and important. The traditional publishing model doesn't always allow for these voices to be heard, and so we want to use the resources we have to make this possible."
Layte and Eelman have secured office space for Cutlass Press in the same building as the bookstore. On a day-to-day basis, the two operations will be completely integrated, with Eelman working directly with authors, Layte focusing on strategy, and another Papercuts J.P. bookseller serving as copy editor.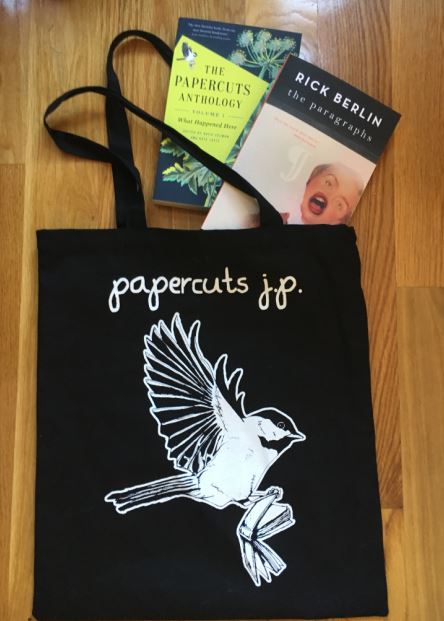 Papercuts J.P. swag bag
Rick Berlin has a relationship with Papercuts J.P. dating back to the store's first year, when he played at the store during Independent Bookstore Day. Described by Layte as a "local legend" in the store's Boston neighborhood, Berlin then contributed a short piece to the first Papercuts anthology. Last summer, Berlin visited the store with a manuscript of The Paragraphs, which at the time he had planned to self-publish. After Eelman read the book, she felt it would be the perfect fit for Cutlass Press, and Berlin agreed.
Said Layte: "I had been waiting for the right book to start publishing, and knew almost instantly that this was the one--I could wait no longer."
Cutlass Press will host a launch party for The Paragraphs at Papercuts J.P. on Small Business Saturday, during which Berlin will read from the book and sign copies. The festivities will also include champagne and cupcakes--and will mark the store's second anniversary. --Alex Mutter