Chuck and Dee Robinson, founders and owners of Village Books and Paper Dreams, Bellingham and Lynden, Wash., are selling the stores to Kelly Evert, Paul Hanson and Sarah Hutton, the store's senior management team, who have been handling most day-to-day operations for the past several years. The sale is effective January 1.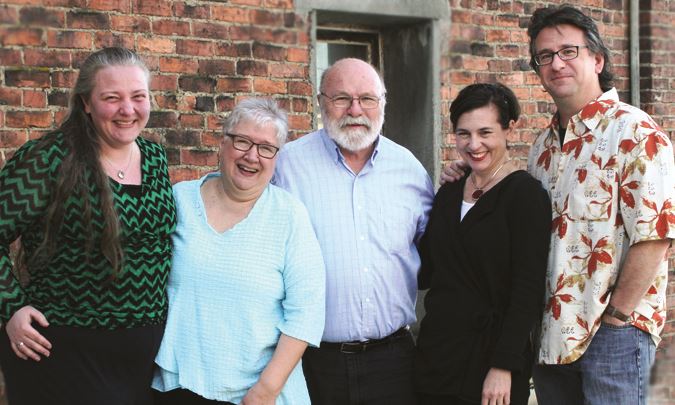 Sarah Hutton; Dee Robinson, Chuck Robinson, Kelly Evert; and Paul Hanson.
"The time is right," Chuck Robinson said. "Our business is doing well in Fairhaven and we're thrilled with the success of the Lynden store. And, most important, we have the right team in place to carry this business forward." He said that the store's mission has been "to build community," and the new owners "have that in their DNA. We couldn't have found a better team if we had scoured the entire country."

"We're both in good health," Dee Robinson added. "And we want to spend more time traveling, enjoying our home in Lynden, and reading the books we've stockpiled over the years. I've even begun to take up gardening." She retired two years ago, although she has remained involved in strategic decisions. Both Robinsons will continue their involvement with the Chuckanut Radio Hour.

Sarah Hutton began her bookselling career as an inventory specialist for Borders. She came to Village Books and Paper Dreams 11 years ago and has been the store manager for more than seven years. Until recently she was also the children's book buyer. "I knew I was coming to work in a special place when I arrived more than a decade ago," she said. "I didn't know then that I'd end up being an owner, but I'm so pleased and proud to take on that position."

Kelly Evert and Paul Hanson, who are married, both joined Village Books and Paper Dreams in 2011 after working at Eagle Harbor Book Company on Bainbridge Island, Wash. She has years of general retail, buying and interior design experience, and has worked at three independent bookstores. Besides her management duties at Village Books, she has been the gift buyer and merchandise manager. She commented: "This business has become an institution in this community, and we're so excited to be given the opportunity to carry on the legacy Dee and Chuck are leaving."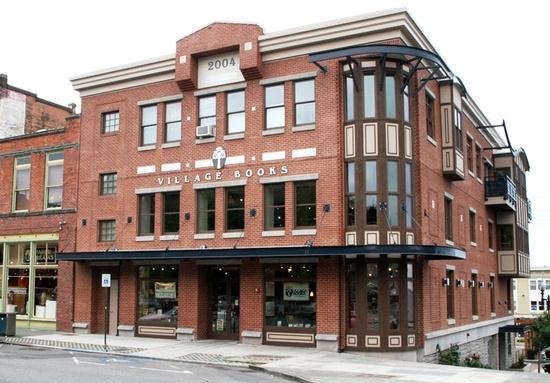 Paul Hanson, who had been the manager of Eagle Harbor for 15 years, began at Village Books as community outreach director, then became general manager in 2013. He has also been president of the Pacific Northwest Booksellers Association and a member of the American Booksellers Association's Booksellers Advisory Council.

Hanson said that he and Evert had originally approached the Robinsons about "working with and for them" because they wanted to own a bookstore at some point and the Robinsons had a model "we wanted to follow." (He praised the husband-and-wife ownership model because "it's a team effort. You always have someone to call you on your crap and not be a yea-sayer. It's also a big job, and you have two people on the team.")

After they arrived at the store and met Sarah Hutton, they found the three worked really well together. "Where I thought two people would be great, now I like the three-legged stool, which is a lot more stable," Hanson continued.

Hanson praised the Robinsons for building Village Books and contributing so much to and being such a part of the community. "You can't go into a room or down a street in Bellingham without anyone knowing who they are," he observed.

As for making possible changes, Hanson said that "one of the cornerstones of Village Books is innovation and change. Change is why we're here and why we're still here." He emphasized that any future change will come "in the spirit of change in the past, in the spirit of improvement and saying yes and being open to opportunities."

Chuck Robinson echoed that, saying that "of course" the new owners would change things. But "what won't change is the commitment to this community, to books, to free expression, and to providing a great customer experience and personal service. These folks have lived the core values of this business and will continue to uphold them."

Robinson said that the idea of selling the store "had been there for a while" but perhaps "the seed was planted" when Evert and Hanson joined the staff. "Suddenly there were people on the horizon who looked like they could possibly take over." The five had been having conversations for the past two years, but during a long cruise that the Robinsons took this past spring, the pair talked a lot about the timing, and "when we came back, we kind of unloaded it on them."

In the last few years, Chuck Robinson has worked more from his home office and in the larger community; he will consult with the Village Books stores over the next several years and will direct special projects. He commented: "There are some things I'm in charge of in the stores, and it will take some time to transition to others." He also intends eventually to do some business consulting with bookstores and other retail businesses, saying that while plans are very open, "I would love to be able to work with new or old stores."

Another big goal: Chuck wants to complete the cross-country bicycle trip that he began in the spring but had to cut short after dogs attacked him in North Dakota. He likely will ride to Maine and do fundraising again, probably for Binc and a local community foundation. (On the first part of his trip, earlier this year, he raised $30,000.)

The Robinsons founded Village Books in Bellingham in 1980, and opened Paper Dreams, which specializes in sidelines, two years later. In late 2015, Village Books and Paper Dreams also opened in Lynden. Besides being deeply involved in the Bellingham community, the Robinsons have been deeply involved in the bookselling world. Chuck is a former president of the ABA and PNBA. Dee was also on the PNBA board and the ABA's Booksellers Advisory Council. They both taught for many years at the old ABA booksellers schools, where Chuck said, "I felt I learned more than the students do."

There will be a combination reception for the new owners and farewell for the Robinsons at the Bellingham store on Saturday, February 4, and at the Lynden store on Sunday, February 5. During February, the new owners also will hold meet-and-greets over coffee and pastries in Book Fare Café at Village Books in Bellingham and at Avenue Bread in Lynden.