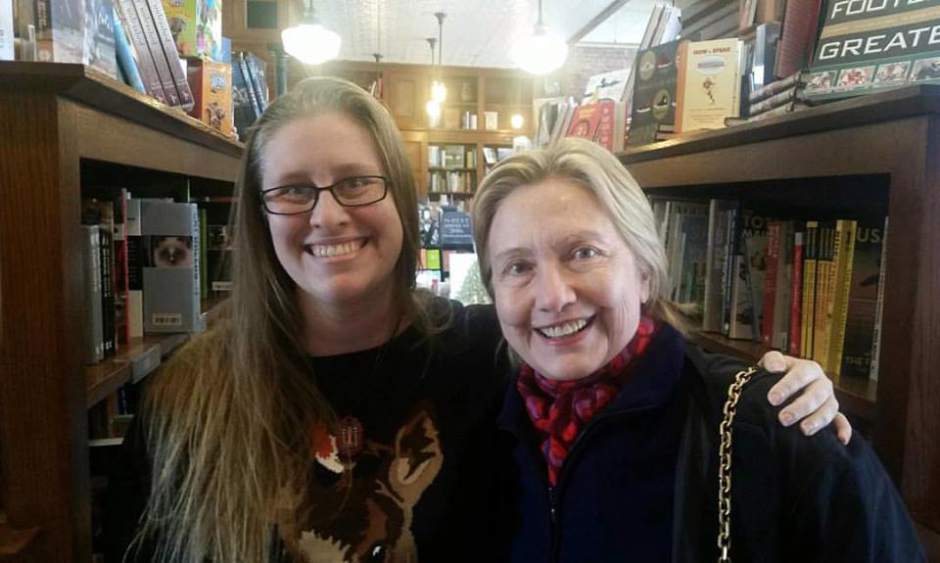 Savoy bookseller Jessica Wick with Hillary Clinton
On Sunday afternoon, Hillary, Bill and Chelsea Clinton (along with Chelsea's husband and daughter) stopped by the Savoy Bookshop & Cafe in Westerly, R.I., to shop for books after the store was checked out by a security detail, the Day reported.
"We had no idea that they were coming in. They were there very low-key," said bookseller Jessica Wick, adding that the family made little fuss in the bookstore and café.
"I wouldn't say we were playing it cool... but nobody approached them. It was like, you're shopping with your family," Wick noted, describing the former secretary of state as "kind, gracious--graceful even," and the former president as "a total courteous gentleman. It seemed like they were just in need of reading.... It was just all of us excited to be brushed by greatness. It was meaningful to see her there." (The Record-Journal featured photos of the Clinton visit.)
---
Vice President Joe Biden spent some time during his birthday weekend in Rehoboth Beach, Del., where Sydney Draper, a bookseller at Browsabout Books, said, "the beloved Delaware figure did sit outside of the store for a time, but did not come in Saturday afternoon," the Daily Times reported.
On Facebook, Browsabout posted: "Happy Birthday, Vice President Biden! We look forward to seeing you in Rehoboth again soon!"