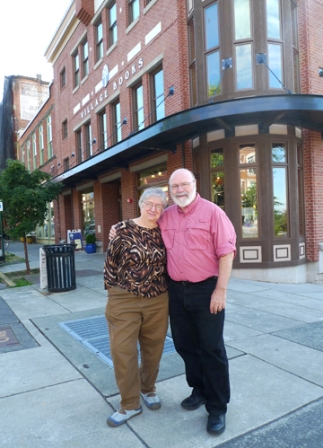 Dee & Chuck Robinson
Chuck and Dee Robinson, who are selling Village Books and Paper Dreams, Bellingham and Lynden, Wash., to their senior leadership team--as announced yesterday--and recently were honored by several groups, are receiving yet another honor: they are the recipients of the 2017 Jack D. Rittenhouse Award, sponsored by PubWest. The award is given to "those who have made a real contribution to the western community of the book." The Robinsons will receive the award during PubWest 2017, which will be held February 9-11, 2017, in Portland, Ore.
"This year it is a distinct pleasure to celebrate the contributions Dee and Chuck Robinson have given to the industry as consummate booksellers for more than thirty years," said board president Katie Burke.
PubWest called Chuck and Dee Robinson "active, engaged owners," noting that "customers could often find one or both of them working the sales floor." Both have been deeply involved in the book world. He was president of the Pacific Northwest Booksellers Association and the American Booksellers Association. She was on the PNBA board and the ABA's Booksellers Advisory Council. And both taught at many ABA booksellers schools.
PubWest continued: "Of the store's 300 events a year, many serve as fundraisers for the Whatcom (County) Literacy Council, North Cascades Institute, local PTSAs, and many other organizations. As part of their mission to build community, the store even records many of their author events for local radio stations KMRE and KAVZ. Village Books has been instrumental in helping to break Western authors onto the national scene, including Jonathan Evison, Stephanie Kallos and Sherman Alexie.
"The Robinsons serve as producers and hosts for the Chuckanut Radio Hour, a variety show-format that has been on the radio since 2007 and they have been instrumental in the success of Whatcom Reads and various literacy programs and efforts throughout their community. They run a summer day camp for kids (Camp Village Books) and Chuckanut Writers Conference with Whatcom Community College. Village Books was named the Washington State Outstanding Philanthropic Business in 2008."