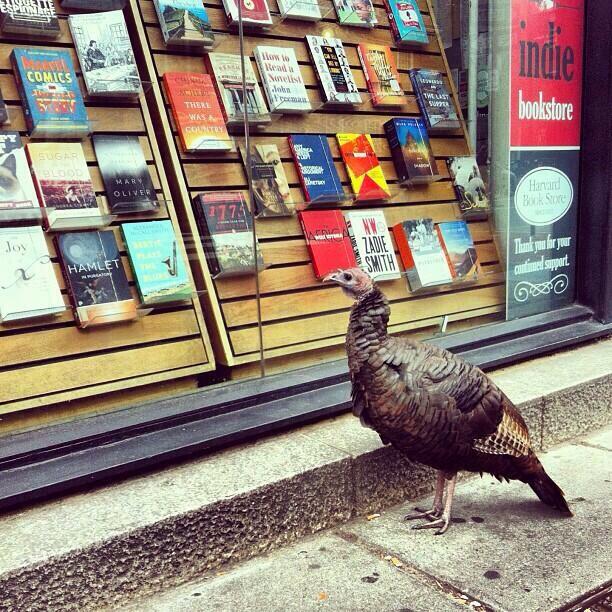 The Harvard Square turkey checking out Harvard Book Store (photo: @diane_xy)
In recent days our e-mail inbox has been a cornucopia of independent booksellers offering messages of gratitude for their patrons and staff. Here's just a sampling:
Russo's Books, Bakersfield, Calif.: "The Thankful Bookseller... Every year at this time retailers thank their loyal customers, and we are certainly no different. Without your sticking with us we would be but a distant memory. However, with you we remain a vibrant, active member of our community and a strong advocate for books and reading. I would, however, like to publicly pay special homage to another group that my parents, Tony & Kathy, and I are eternally grateful to... our staff. We have called upon Jason, Michele, Erin, Jenn, Lynn, Jacquelyn, and Thomas more than ever in recent weeks. Thank you guys... without you there would be no Russo's Books, no local bookseller."
Broadway Books, Portland, Ore.: "We are Thankful for YOU! We wish you all a happy and safe Thanksgiving holiday weekend!"
Odyssey Bookshop, South Hadley, Mass.: "It's a busy week for Odyssey staff and customers alike as we get ready for Thanksgiving, followed by IndiesFirst on Small Business Saturday. Now, more than ever, we need to celebrate the things we give thanks for in our lives. So whether you're at home or traveling, whether you're doing a traditional feast with family or hosting/attending a Friendsgiving, please know that we at Odyssey are grateful for you and all that you do for us."
Nantucket Book Partners, Nantucket, Mass.: "Happy Thanksgiving from your Nantucket Book Partners! We are thankful for books this week, as well as all of the Nantucket Bookworms and readers that visit us at Mitchell's & Bookworks, follow us on social media, and shop online with us throughout the year. Thank you, from the bottom of our hearts, for reading!"
Antigone Books, Tucson, Ariz.: "Happy Thanksgiving! The store will be closed on Thursday, November 24 and will reopen Friday at 10 AM for the post-Thanksgiving sale! Be there or be gourd-shaped!"
And, finally, this update arrived yesterday from Pamela French, executive director of the Book industry Charitable Foundation: "When the book community comes together--great things happen! As we begin this holiday season, the Binc Foundation and Parnassus Books would like to extend our sincerest gratitude to all of the 'Bank on Booksellers' auction participants, authors, artists, musicians, celebrities, bidders and piggy bank winners for helping to raise almost $35,000. Bringing comfort, joy and peace of mind to booksellers in need in Nashville and beyond--thank you!"