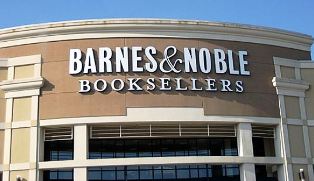 Even though Barnes & Noble yesterday reported a 4% total sales decline, a 3.2% sales decline at stores open at least a year and a net loss of $20.4 million in the second quarter ended October 29, the sales drops were less than stock analysts expected and earnings before interest, taxes, depreciation, and amortization improved significantly, leading B&N stock to jump 10.5%, to $12.65 a share, on more than double the usual trading volume.
In a conference call with analysts yesterday (transcript by Seeking Alpha), B&N chairman and CEO Len Riggio said the company doesn't know "at this moment where the new norm is," but expects that sales will improve now that presidential campaigning is over. He offered unusual details about the election's effect, saying that same-store sales declines occurred during a nearly two-month period in the fall during evening "TV viewing hours," when the company assumes people were "preoccupied watching the election coverage." At other times during the day, however, sales were "normal or even better than normal." Riggio predicted that B&N "will be back on track before the holidays and through the holidays."
Noting that he is now "serving as CEO" again, Riggio added that "for the record, I'm enjoying every aspect of being in the seat. I am energized, and as always, I see more opportunities than challenges."
In an aside about sales, CFO Allen Lindstrom indicated that the sale of coloring books at B&N may have stopped growing as phenomenally as it has the past few years, when he observed that same-store sales in the quarter were "pressured by comparisons to the strengths of coloring books [sales] last year."