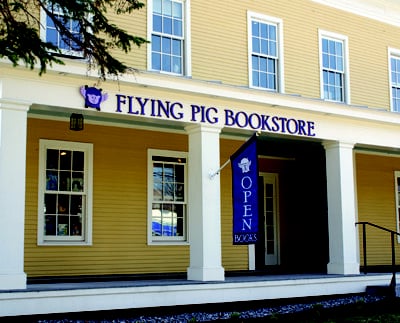 Congratulations to the Flying Pig Bookstore, Shelburne, Vt., which turns 20 today and will celebrate its anniversary Saturday with cupcakes, cider, and customer memories. Josie Leavitt, co-owner with Elizabeth Bluemle of the Pannell Award-winning bookshop, said, "Small Business Saturday seems like the perfect day to raise a toast to our little store."
Bluemle added: "It's amazing how much the bookselling world has changed since we first opened our doors. Online stores didn't exist, and chain stores were only just starting to gain a foothold. It was almost viable to open a bookstore in a town of 3,500 people.... Almost."
Leavitt and Bluemle moved to Charlotte from New York City in 1996, planning to continue their teaching and writing careers until they noticed a small building for lease in the village, and the idea to launch a small bookshop was born.
"We both had teaching backgrounds, master's degrees in education, and experience with kids from age three through high school," Leavitt recalled. "We had taught reading to literacy students. We had entrepreneurial enthusiasm. And above all, we had a knowledge and love of books."
Opening day happened a scant 10 weeks later. "It was crazy. Impossible," Bluemle said. "But we knew we needed to open for the holiday season, so somehow, we did it."