Santa Claus makes mistakes, gets a stowaway on his sleigh, and doubts the existence of a boy named Harold in this cheery collection of Santa picture books for 2016.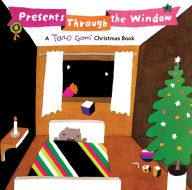 Presents Through the Window by Taro Gomi (Chronicle, $15.99, hardcover, 9781452151380, 36p., ages 2-5, September 20, 2016)
In Japanese author-illustrator Taro Gomi's delightfully offbeat Christmas story, a helicopter-traveling, pink-suited Santa peers through house windows to determine which gift he will deliver to whoever lives there. Clever die-cut windows show just a piece of the bigger picture, and children will quickly catch on that Santa needs to look a little closer at the houses' inhabitants before deciding on appropriate presents. No, Santa, that's not a zebra you're seeing, it's three white swans! They won't want one scarf, will they? Those aren't the ears of a sly fox, it's the jagged back of a crocodile! Fortunately, everyone is happy with their mismatched gifts. Preschoolers will giggle gleefully at Santa's mix-ups and Gomi's clean, comical illustrations.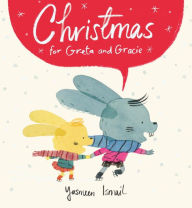 Christmas for Greta and Gracie by Yasmeen Ismail (Nosy Crow/Candlewick, $15.99, hardcover, 9780763689438, 32p., ages 3-7, September 27, 2016)
Greta and her little bunny sister Gracie may have the same smile and same "hoppity-skip" walk, but Greta has a lot more to say than Gracie, telling her how to do things ("No, Gracie! Like this! Like this!") and taking over when Gracie is too little, slow or soft-spoken ("I'll do it. You're too QUIET.") But it turns out that the very traits that make Greta so impatient are exactly what's needed Christmas Eve when Gracie hears a mysterious "thump" in their living room. The charming whimsy and lovely palette of Yasmeen Ismail's illustrations perfectly balance this slyly funny story that will ring true for every child who has felt a bit squashed by a more forceful sibling or friend.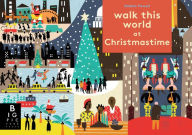 Walk This World at Christmastime by Zanna Davidson and Mary Sebag-Montefiore, illus. by Debbie Powell (Big Picture/Candlewick, $17.99, hardcover, 9780763689216, 24p., ages 5-8, September 27, 2016)
In this marvelous combination book and Advent calendar, readers are invited to "[p]eek through windows, open doors,/ watch as Christmastime unfolds" all around the world. Each spread, a crisp and vibrant cityscape, showcases myriad international traditions, revealed in captions and images behind flaps. Twenty-five flaps, spread throughout the book, are numbered and can be opened in the days leading up to Christmas. Rhymes and fun facts hint at each tradition's origin: in India, banana trees are decorated for Christmas. White-robed pilgrims in Ethiopia flock to beautiful rock churches. Australians like to eat a meringue cake called pavlova (yum!) after their holiday feast. This engaging book is sure to become a Christmas tradition in its own right.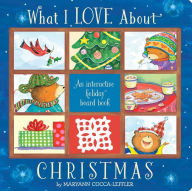 What I Love About Christmas by Maryann Cocca-Leffler (Sterling, $12.95, board book, 9781454918202, 22p., ages 4-up, October 18, 2016)
There's so much to love about Christmas: making gifts, decorating trees, wishing on a starry night. A cuddly bear family does it all in this joyful, interactive board book. Readers turn a wheel to see the cookies being decorated, pull a tab to watch a star shooting across the sky and lift a flap to view mama bear snuggling her cub inside her jacket. Darling colored pencil, gouache and collage illustrations are Christmas-card worthy, as is the final pop-up message: "With all the things to see and do, what I love BEST about Christmas... is time with you!"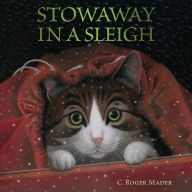 Stowaway in a Sleigh by C. Roger Mader (Houghton Mifflin Harcourt, $17.99, hardcover, 9780544481749, 32p., ages 4-7, October 11, 2016)
Slipper the cat investigates a mysterious sound one Christmas Eve and discovers something wonderful: Mr. Furry Boots! When that jolly red-suited man heads back to his sleigh, he has no idea he has acquired a stowaway. Back at the North Pole, Slipper investigates the elves' workshop and befriends the reindeer. But seeing a pair of fuzzy slippers reminds her of her own cozy home. How will she get back? Rich and realistic pastel illustrations capture the dark mystery of Christmas Eve.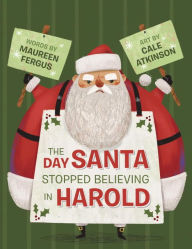 The Day Santa Stopped Believing in Harold by Maureen Fergus, illus. by Cale Atkinson (Tundra Books, $16.99, hardcover, 9781770498242, 32p., ages 4-8, October 11, 2016)
Santa is having doubts about the existence of the boy Harold. He still likes "the idea of Harold," but there's a litany of things that make him wonder: He's pretty sure Harold's (white) mom writes his Santa letter. And he thinks his (black) dad lays out the Christmas Eve snack. Meanwhile, Harold has his own suspicions about whether Santa is real. What happens as each skeptic searches for proof of the other's existence makes for a hilarious holiday story that celebrates the magic and intrigue of a childhood Christmas. Readers will laugh out loud when Harold's dad sprays his coffee in surprise at the nearly spherical-Santa's appearance in their house. Droll illustrations with plenty of red and green up the fun factor exponentially. Santastic.

--Emilie Coulter, freelance writer and editor