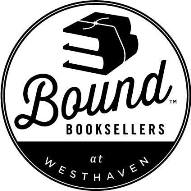 Bound Booksellers has opened in a 550-square-foot space in the West Haven Town Center, Franklin, Tenn., near Nashville, "a small town rich with local culture and the arts but in need of a community bookstore," Bookselling This Week reported. Owner Kelly Gore's mission is to "provide the community a small, locally owned 'artisan' selection of books and gifts in an atmosphere that is warm and inviting."
"I don't know if the idea for a bookstore existed initially in our minds--it was more as a community hub for the local artistic community of singers, writers, and artists, but with the backdrop of a bookstore," said Gore, who designed the shop with her husband, Chad. "I think there was an idealistic thing that existed for me since the time I was young, thinking that I would open [a bookstore] when I retired. Bookstores have always been a very comforting and warm place for me, and books have always had a very comfortable, homelike quality. Also, I live in a part of Franklin that didn't have that small independent bookstore, so I thought there was an opportunity in the neighborhood to really connect with people through opening a bookstore."
Bound Booksellers hosted a grand opening celebration November 19. "It was interesting how so many people who came in that first day thanked me for opening a bookstore," Gore said. "A lot of people were saying, this is exactly what we needed and wanted for this space. It was great to see everybody's love of books and bookstores.... I wanted Bound to be a place to go for books that you can pass down, or really well-bound versions of classics. Our inventory will include a section at the front of the store of those really well-bound beautiful books."