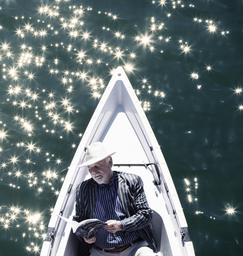 Legendary Canadian bookseller Jim Munro, who founded the landmark Munro's Book in Victoria, B.C., in 1963 with his then-wife, Alice Munro, and "gave his business to longtime staff members, whom he described as his extended family," after his retirement in 2014, died November 21, CBC News reported. He was 87. Munro was also named to the Order of Canada "for his vital championship of countless Canadian writers and for his sustained community engagement as an independent bookseller." National Geographic included Munro's on its list of the world's top 10 bookstores this year.
Store manager Jessica Walker, who is a co-owner with Carol Mentha, Sarah Frye and Ian Cochran, said Munro "placed great trust in us and gave us great freedom. He loved us.... He sat on heritage boards, he was very involved in culture, more than happy to write a letter to city council about things he felt passionate about. He loved discovering new books and new writers and introducing them to the world."
In a tribute written for the National Post, Rex Murphy called Munro "the nicest of men, of a certainty the best of employers, a gentleman of wit, humor and taste, benevolent--well-wishing--it seems to me, in all he said and did. On the correct scale of the word, he was a hero; someone who gave more than he received, who stimulated harmony in whatever setting he was to be found, a friend unassuming and ready to help when help was needed, and a near perfect exemplar of how an enthusiasm for words and books can make a full and pleasant life--and carry much joy into the lives of others."
Announcing Munro's passing on Facebook, the bookstore's co-owners noted that "he still loved to keep in touch, and earlier in the day had made it downtown for his regular lunch date with Doug Koch, an employee and friend for many years.... Jim touched many people during his long life, and his passions were many: art, music, politics, civic life, heritage architecture, and most of all, his beloved bookstore. Throughout his career, Jim delighted in discovering new books and promising writers. His importance in the world of books and literary culture was recognized with an appointment to the Order of Canada in 2014. His enthusiasm and generous spirit were the hallmarks of the business he lovingly built and tended for more than fifty years. He will be greatly missed."