Every Christmas my dad gave my brother and me a paperback copy of the following year's The World Almanac and Book of Facts, as reliably as the tangerine in the toe of our stockings. For me the holidays aren't the holidays without a good reference book to curl up with, so, from our Shelf to yours, we offer a cornucopia of appetizing choices for 2016 holiday gift-giving.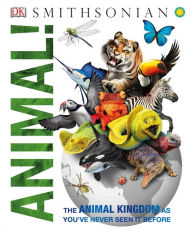 Animal! by John Woodward (DK/Smithsonian, $29.99, hardcover, 9781465453358, 288p., ages 9-12, September 6, 2016)
Animal lovers, sit up like a meerkat and take notice--this hefty, oversized full-color reference book teems with photographs and dramatic photorealistic computer-generated images, infographics and the occasional cutaway of an animal's innards. A giant toad catches a fly with its tongue, lions tousle and a sea lamprey exposes its horny teeth. Evolution, extinction, adaptation and many more aspects of animal science are explored in lucidly written, visually arresting pages. Divided into sections called Invertebrates, Fish, Amphibians, Reptiles, Birds and Mammals, this stunning encyclopedia will truly wow middle-graders who revel in all creatures great and small, from the tiniest baby seahorse to the chest-beating mountain gorilla.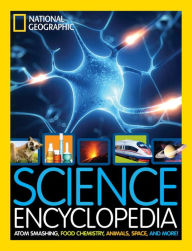 Science Encyclopedia: Atom Smashing, Food Chemistry, Animals, Space, and More! (National Geographic Children's Books, $24.99, hardcover, 9781426325427, 304p., ages 8-12, October 11, 2016)
"The minute you hop out of bed in the morning, you land in the world of science," begins National Geographic's engaging Science Encyclopedia. This colorful, photo-rich, dynamically designed volume is catnip to anyone curious about how things work, from electricity to the human brain. Part 1: Physical Science covers matter, forces and machines, energy and electronics, and Part 2: Life Science tackles the universe, life on Earth, the human body and planet Earth. While unraveling questions like "How did life begin?" and "Who was Einstein?" the authors crack jokes, suggest activities and clarify context with photo-illustrated timelines. (The axolotl photo on page 191 is heart-stealing!)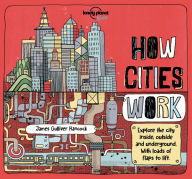 How Cities Work by James Gulliver Hancock (Lonely Planet Kids, $18.99, hardcover, 9781786570222, 24p., ages 7-12, November 8, 2016)
"Our planet is bursting with hundreds of big cities, bustling with millions upon millions of people--but how did they come to be?" How Cities Work answers this question in a lively book with cartoonish, detailed, clean-lined illustrations that often expand into gatefolds, particularly thrilling in the "High-Rise Life" section. Open up the skyscraper to see a cross-section of a busy indoor city, from the tip-top penthouse to the steel supports underground. (It's Richard Scarry grows up and meets urban planning, but without the smiling, clothed animals.) Liftable flaps often reveal building or vehicle interiors and bite-sized captions about the history of cities, transportation, city living, construction, green spaces, emergency services, city hall, recreation, culture and cities of the future. Budding architects, urban planners, mayors or just plain engaged young citizens, rejoice.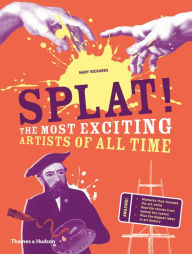 Splat! The Most Exciting Artists of All Time by Mary Richards (Thames & Hudson, $19.95, hardcover, 9780500650653, 96p., ages 9-14, May 3, 2016)
This eye-catching, cleverly designed book begins with cave paintings and proceeds chronologically through the lives and works of world-famous artists such as Michelangelo, Bruegel, Caravaggio, Hokusai, Monet, Picasso, Dalí, Kahlo, Warhol and more. A pleasing variety of layouts give young readers the basics in handsome at-a-glance charts; illustrated cards that identify techniques and artistic movements; relevant sidebars; activity ideas; and, of course, well-produced samplings of the artists' works. The "challenges" section is fun, too. Vermeer's challenges, for example, are listed as "Money worries; a large family to support; used expensive paints; worked slowly." It's not all visual "soundbites"; two-page biographies also help flesh out the artists' stories. A splendid window on the world of art.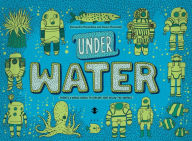 Under Water, Under Earth by Aleksandra Mizielińska and Daniel Mizieliński (Big Picture Press/Candlewick, $35, hardcover, 9780763689223, 112p., ages 9-12, October 11, 2016)
"This book will take you on an unusual journey deep underwater, where you will meet record-breaking divers, scientists, and research vessels." That's the "Under Water" part of this quirky, oversized treasure (from the Polish creators of the bestselling Maps) that opens up landscape-wise like a laptop. Flip the book over to find the "Under Earth" section, "where you will meet cavers, spelunkers, miners, and passengers on the subway." Both the Under Water section (things like coral reefs, the history of diving suits, deep dwellers, the Mariana Trench) and the Under Earth section (volcanoes, mined resources, caves, burrowing animals, earth's layers, water, tectonic plates) delve into usually invisible worlds, with no particular flow or master plan. This whimsical, endlessly engrossing book, with its delicate, cartoon-like artwork, labels and bubbled captions, is tailor-made for perusing.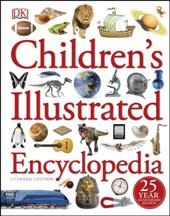 DK's Children's Illustrated Encyclopedia: Updated Edition (DK, $29.99, hardcover, 9781465451699, 600p., ages 9-12, July 5, 2016)
Wonderments from A to Z... this 600-page doorstop of a book is a browser's paradise, fully revised for its 25-year anniversary. The colorful, crisply designed entries on more than 380 topics lure readers with enticing overviews of varying lengths--one page each for Black Holes and Congress, four pages each on China and India, two each on Fish and Flight. Is it Microscopic Life, the Middle East, Migration or Money that intrigue you? Or perhaps Oil, Olympic Games, the Ottoman Empire and Oxygen? Snakes, Soccer, Soil and Sound? Technology, Teeth, Telephones and Telescopes? Elaborate cross-referencing makes the experience even richer. DK's Children's Illustrated Encyclopedia's updated edition swims with the latest facts and figures, global events, and recent developments in science and technology, with more than 3,000 full-color photos, illustrations, diagrams and new maps. A must-have for any inquisitive young mind. --Karin Snelson, children's & YA editor, Shelf Awareness