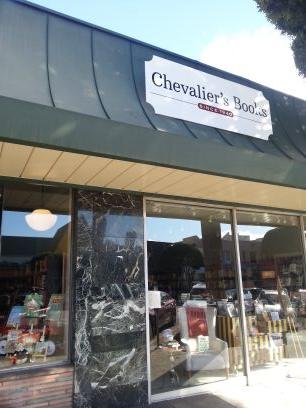 Chevalier's Books, "which claims the title of oldest independent bookstore in Los Angeles, has been serving the local neighborhood since 1940, when its original owner, Joseph Chevalier, started the business as a lending library," Bookselling This Week reported. The bookshop was purchased in 1990 by staff members Filis Winthrop and Gilpin Netburne, then sold in 2014 to Darryl Holter and Bert Deixler.
"We were then only a few blocks from the Paramount studios so we got a lot of movie people and actors," Winthrop recalled. "They would come in all the time. But a lot of the stars who were around our area were not the ones who were really glitzy." She added that Larchmont Village is "an old neighborhood where people all know each other. It became the meeting place for gossip, for friendly arguments, where everybody gathered to talk about the books they liked."
Holter told BTW that he and Deixler thought Chevalier's, which was struggling financially at the time, could still be a successful venture with a few changes. "I concluded that indie bookstores like Chevalier's that survived up to this point have three things," he said. "First, you need people who want to come in for the experience of being seen and of seeing other people; second, you need good demographics; third, your store needs to have some kind of a following, an affinity among people that goes back to a shared history."
Winthrop, at 95, is still a regular customer and sees the legacy continuing: "I go to the bookstore every day at least for a short while, so I see that we are holding our own, which is great. I am thrilled. It's so important to me that we keep the store going, and I hope we do."
For more on Chevalier's Books, see Shelf Awareness's recent story here.