Connecticut Magazine extolled the state's "10 Best Bookstores" (comments excerpted):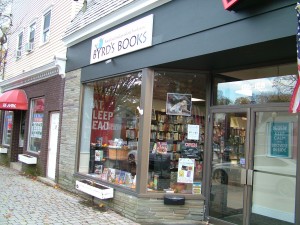 The Book Barn, Niantic. "Not so much a bookstore as a book compound."
Whitlock's Book Barn, Bethany: "Check out Whitlock's Book Barn to ensure good heart health."
Byrd's Books, Bethel. "Asked what a local, independent bookstore means for the community, [owner Alice] Hutchinson's answer is simple: 'It means survival.' "
House of Books, Kent. "Literary landmark."
Brick Walk Bookshop, West Hartford. "This bookshop also specializes in fine art, in case you're looking to decorate your home as well as your imagination."
R.J. Julia Booksellers, Madison. "One of the premier destinations for Connecticut book fiends."
Diane's Books, Greenwich. "There's something here for everyone."
Bank Street Book Nook, New Milford. "A feast."
Bank Square Books, Mystic. "Not only independent, but fiercely so."
Traveler Restaurant, Union. "Traveler is a great bookstore in its own right, plus every diner gets a free book after a meal."