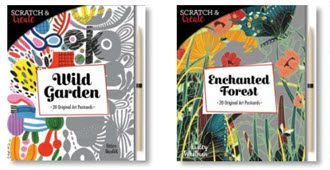 The Quarto Group has launched Scratch & Create, a format for the adult creative-craft market that incorporates metallic ink layered over commissioned drawings or unusual colorful backgrounds. With a stylus, users can scratch away the coating, uncovering full-color finished artwork, or their own designs. The series will be published in the U.S. by Quarto's Rockport Publishers imprint.
"More and more adults are looking for creative activities that can help them unwind and relax," said David Breuer, Quarto's chief creative officer. "We believe people will enjoy these innovative products that offer new ways of stimulating the mind and exercising new skills."
The publisher, which sold more than two million coloring books worldwide during the global adult coloring book craze, said Scratch & Create "takes your creativity beyond coloring and lettering, encouraging you to unwind your mind and discover a new course of relaxation and creativity."
Quarto is supporting the launch with extensive marketing and advertising. The series will debut in August 2017 with four titles, followed by four more in December. All of the scratch pages are perforated, resulting in a finished piece of work.
The publisher is also releasing a selection of books using scratchable ink for the children's market under its Wide Eyed Editions imprint. The first two titles will be published in September under the series title EtchArt.