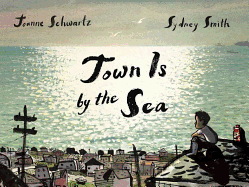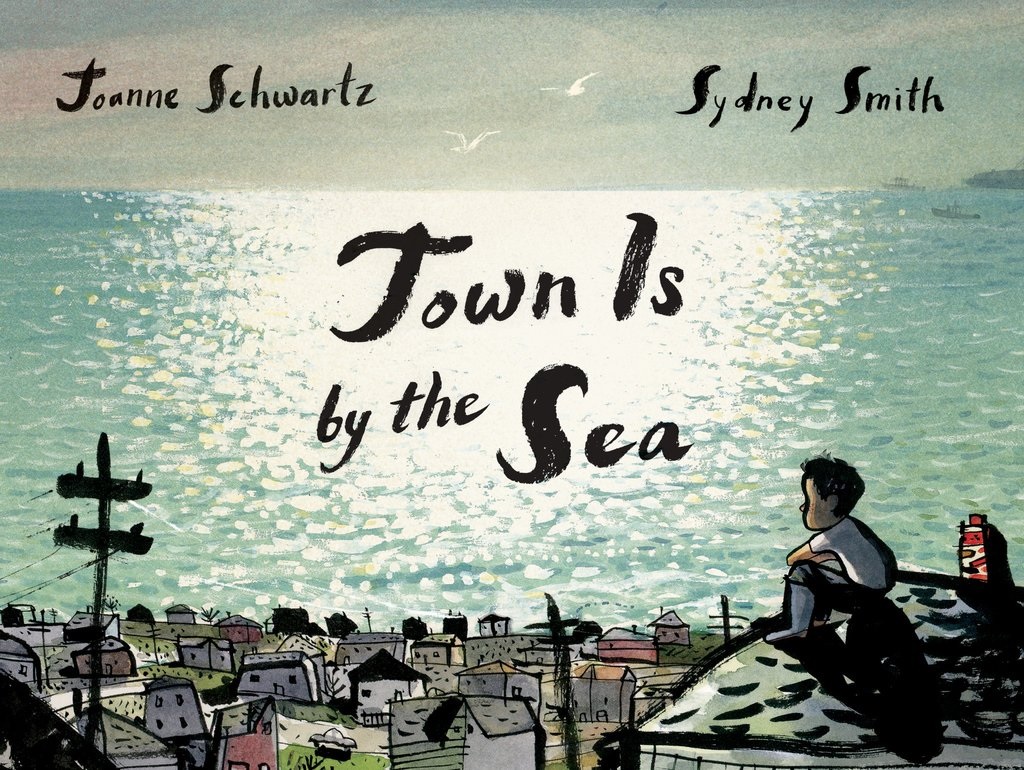 Town Is by the Sea offers some of the most beautiful paintings of sunshine on water ever painted, and that is more than enough reason to track it down. But Toronto children's librarian Joanne Schwartz's (Our Corner Grocery Store; Pinny in Summer) extraordinary picture book, illustrated by Sydney Smith (Sidewalk Flowers), also offers a moving visual portrayal of what it means to send humans deep into the earth, deep under the sea, to dig for coal.

In a 1950s mining town in Nova Scotia (readers learn this in the author's note), a boy and his family live in a house overlooking the water. The chummy boy narrator describes it in conversational style: "It goes like this--house, road, grassy cliff, sea." When he wakes up, "it goes like this": "first I hear the seagulls, then I hear a dog barking, a car goes by on the shore road, someone slams a door and yells good morning." As cheerful days of baloney sandwiches and sunny shoreline ambling are vividly chronicled, Smith intermittently yanks the reader down into the coal miner's subterranean realm. The coal-mining pages are almost entirely black, textured with chalky, kinetic lines. The boy's father, wearing a hard hat, hunched over and encumbered with tools, pushes his way forward through a claustrophobic tunnel, depicted as a lighter horizontal strip along the bottom of the page. The ominous weight of the blackness above him is palpable.

Readers emerge, blinking, back into the light to see the boy knocking on his friend's door, then heading over to the old playground's swing set: "We go so high butterflies rush through my stomach./ We go so high I can see far out to sea." The sea is breathtaking. Smith's brushwork, in "ink, watercolor and a bit of gouache" is brilliant--the "white tips" of the waves, and later, the "sparkling" are overwhelmingly gorgeous.

Alas, there's soon trouble in the mines... an avalanche starts and the father is shown in retreat. Above ground, the boy is now visiting the graveyard where storms have battered his grandfather's--also a miner--gravestone with "salt-soaked spray." As we are again plunged into darkness of the mines, there's no sign of the father... was he buried alive? Relief is sweet when dad comes to the front door, ready for supper, "safe and sound." Echoing a longstanding mining tradition, it seems likely that the boy will eventually follow in the footsteps of his father and grandfather: "One day, it will be my turn," he says matter-of-factly.

Coal is frequently in the headlines these days, and this book puts a human face on the centuries-old practice of coal mining. More abstractly, Town Is by the Sea is a powerful and profound work of art that tweaks our perspective and transcends its subject. --Karin Snelson, freelance writer and editor

Shelf Talker: In Canadian author Joanne Schwartz's stunning picture book, illustrated by Sydney Smith of Sidewalk Flowers, a boy lives a sunny life while his father digs in the coal mines deep beneath the sea.