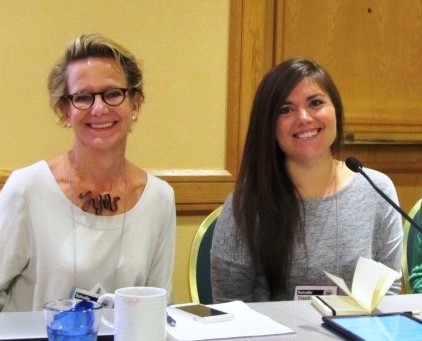 Cathy Langer and Stephanie Coleman at MPIBA last year.
Cathy Langer, director of buying at the Tattered Cover Book Store, Denver, Colo., will retire in March 2018, after 40 years with the company. Langer is one of the preeminent book buyers in the country and has served as president of the Colorado Center for the Book and president of the Mountains and Plains Independent Booksellers Association, and been a member of the American Booksellers Association board of directors.
"Since joining Tattered Cover straight out of Colorado College, Cathy has unfailingly demonstrated her knowledge of the readers' potential interest and her ability to be in touch with it," said owner Joyce Meskis, who originally hired Langer four decades ago. "That speaks to her abilities as a bookseller and buyer, but Cathy's contribution has extended well beyond that special talent. She has worn many hats in her service to the community, the book industry, and Tattered Cover. Her strong work ethic, humanity to those in personal need, and her organizational leadership have served as an inspiration to others. And her dedication to the work of the Tattered Cover, through years of challenges and change, has been invaluable in marking a place for our stores in the years to come."
Len Vlahos, Tattered Cover CEO and incoming co-owner with his wife, Kristen Gilligan, recalled that the two "first got to know Cathy during her tenure on the ABA board. It was clear to us right away what a special person and special bookselling talent Cathy was. Everyone at Tattered Cover owes a debt of gratitude to Cathy for helping to make this business into the iconic institution it is today, and Kristen and I owe Cathy a debt for helping make our transition into the Tattered Cover family so seamless."
People in the book world expressed their appreciation. "Cathy is both a colleague and a dear friend," said Gayle Shanks, owner of Changing Hands Bookstores in Tempe and Phoenix, Ariz. "Our shared love of books and bookselling brought us together. I cherish her knowledge, her passion, the breadth of her reading and her love for the books we have shared with each other over the years. I'm jealous that she is retiring and know that her legacy at Tattered Cover will live on with her successor and those of us who will still write her and say, 'Have you read the new...?' And she will have."
Bob Miller, president and publisher of Flatiron Books, said: "I'm in utter denial about this news. It's pretty hard to imagine the bookselling community without Cathy's strong, clear voice, her passionate engagement with the business, and above all her deep devotion to books and readers."
Next March, Langer will be succeeded as director of buying by Stephanie Coleman, who is currently buyer of adult frontlist. She has been with Tattered Cover for four years.