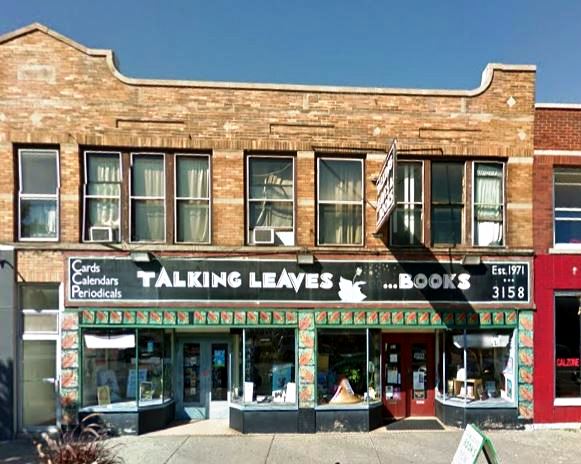 Talking Leaves' Main Street store
Talking Leaves Books, Buffalo, N.Y., will close its shop at 3158 Main St. after 42 years in the University Heights neighborhood and consolidate to the 951 Elmwood Ave. location, which will remain open. In a Facebook post announcing the closure, owner Jonathon Welch cited "significant changes" in book buying habits and in the University of Buffalo neighborhood as major factors in the decision, but said the "good, exciting news is that our Elmwood location is staying open.... with a renewed focus on a resurgent future that incorporates all that bookselling in the 21st century entails. We will continue our many partnerships with cultural organizations, schools and other community groups to sponsor readings, conversations, and other events, and to bring books out of the store and into the community."
Describing the Main Street shop as "a slow food store in a fast food world," Welch observed that the location had been "conceived in a different era, when people had more time to browse and a deep, wide, and varied inventory was desirable.... As we consolidate and strengthen our presence as ambassadors of book culture to this community, we will address these issues and concerns." The bookstore plans to add online shopping to its soon-to-be updated website, and is considering the possibility of a delivery option for customers who are shut-ins or unable to get to the store.
"What will not change is the vision, purpose and goal that inspired us when we opened in 1975," Welch wrote. "We envisioned establishing a place where the community of readers and writers in Buffalo could find the best writing and reading, both classic and contemporary, bound into print. We wanted to provide a space where books and the ideas and issues contained therein could be engaged with privately and discussed publicly, a space where readers and writers could meet, converse, and engage. From our inception, we featured books from small, independent and university presses and we gave prominent space to the diverse voices of the many underrepresented or ignored communities that make up our world. We will continue to do so.
"Part of our renewed focus is to better engage you in this store and in the movement to maintain and sustain a vibrant local independent economy. A community is only as strong as the resources that physically reside in it. We welcome your suggestions to make us a better bookstore, one that will be around for another 40 years."