Kelly Evert, Paul Hanson and Sarah Hutton, the new owners of Village Books, Bellingham, Wash., took the reins from founders Chuck and Dee Robinson in January. They recently sat down with the Bellingham Business Journal for a q&a. Among our favorite responses: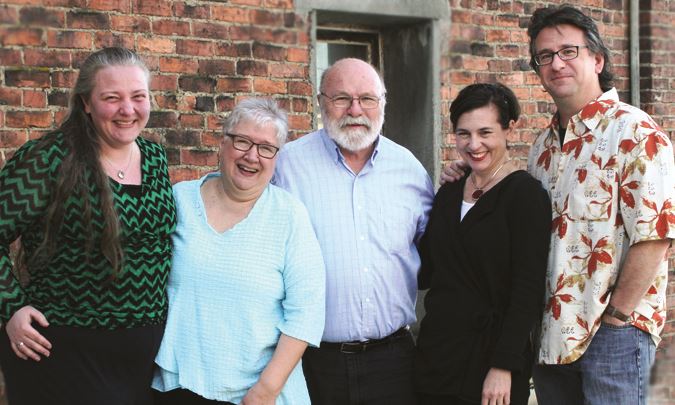 Sarah Hutton, Dee and Chuck Robinson, Kelly Evert, Paul Hanson.
What are some of the differences between working at a corporate bookstore and working at an independent bookstore?
Hutton: I think the biggest difference that struck me when I started working here is that you have full control over what you have in the store in terms of product, in terms of advertising, or in terms of events you offer, those are all things that are chosen at the store level.... I think that's one of the biggest changes between here and the corporate life is when somebody comes to us with an idea or a proposal or a question, we can say yes.
So is it at all daunting to step into this role, or do you think you can handle it?
Evert: Yes and yes.
Hutton: Oh we can handle it, but it is daunting.
Hanson: Fortunately for the past few years we've been running the day to day operations. And in fact for the past five years the five of us have been meeting weekly to talk about daily operations, and also the big picture direction of the store.
What do you think Chuck and Dee's legacy is?
Hanson: It's huge. The community building that they have been doing since they hit town 36 years ago cannot be measured. Or underestimated. There are so many institutions here that they have been founding board members of, or instrumental in forming. City Club, Sustainable Connections, the Food Co-op, Whatcom Reads, the Whatcom Community College Foundation. There's not too many boards in the city of Bellingham that at least one of them hasn't served on.
Hutton: And there's also their part in the larger bookselling community. They've taught bookselling school.
Hanson: I was just remembering one of the days after I started here when Chuck and I were driving down the road, going from one meeting to the other and it seemed like every other person we passed, he said oh, they used to work at Village Books, they used to work at Village Books. Everybody he introduced me to.
Hutton: Folks have had their wedding pictures taken inside the store, and weddings here.
Evert: We had our wedding here.
Hanson: We got married on the green behind the store. The reception upstairs. Joan, one of the booksellers here, married us.