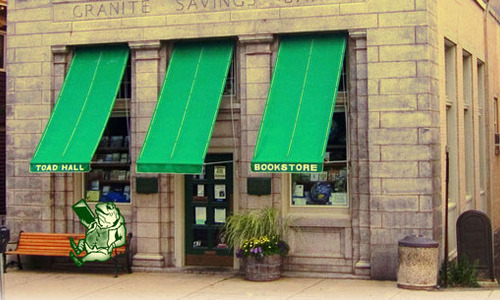 Congratulations to Toad Hall Bookstore, Rockport, Mass., which is celebrating its 45th birthday tomorrow with the Toad Hall Book Hop party and fundraiser from 7 to 10 p.m. at the nearby Shalin Liu Performance Center. Sponsored by the Friends of Toad Hall Bookstore, the party features raffles of a variety of items and gift certificates, food, a cash bar and live music from local musicians Mike Forgette and the band Nollege.
Store manager Ardis Francoeur told the Gloucester Times, "We decided to make it both [a party and fundraiser] to give it a theme, to make it fun and to have an excuse to buy a big cake."
All proceeds benefit the nonprofit store; most of the money will be used to replenish inventory. Toad Hall, which has a used book section, is also asking partygoers to bring a book to donate if they want to.