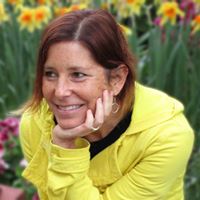 Amy Krouse Rosenthal
To celebrate the memory of children's author and filmmaker Amy Krouse Rosenthal, who died March 13, Newbery Honor-winning author Kirby Larson has called for a tribute to Rosenthal on her birthday, April 29, which is also Independent Bookstore Day. Larson is asking people to do #MoreforAKR--"more love, more kindness, more yellow umbrella moments"--and has created a Facebook page to share plans for the day. Larson reported that many authors and illustrators are pledging to read Rosenthal's books during their bookstore visits on IBD, while others are donating books in her memory. The bulk of the group's membership so far is made up of people in the kid lit world, but the group and event are open to all.
"Like many in the kid lit world, I felt bereft after the death of Amy Krouse Rosenthal," said Larson. "One sleepless night an idea came to me to ask people to pledge to do #MoreforAKR."