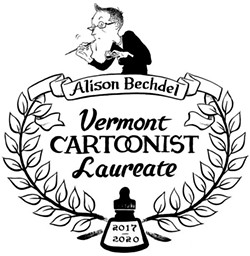 Alison Bechdel
Next Thursday, Edward Koren "will pass the torch--er, laurels--to his successor, Alison Bechdel, as Vermont Cartoonist Laureate" in a ceremony at the Statehouse, Seven Days reported. The creator of the syndicated comic strip "Dykes to Watch Out For," and author of the graphic novel Fun Home: A Family Tragicomic, "will become the third cartoonist laureate in the only state to regularly appoint one."
"It seemed obvious she could have been the choice from the get-go--we're lucky to have so many great cartoonists in the state," said James Sturm, co-founder of the Center for Cartoon Studies, which originated the initiative a decade ago. "Besides all her accolades and fame, she's really a cartoonist's cartoonist. Cartooning is just essential to who she is and how she makes sense of the world."
In a joint statement, Vermont's congressional delegation said: "For three decades, Ms. Bechdel's talents have been well known to Vermonters, and we have proudly watched her achieve the national acclaim she deserves. Her scope of work--from books to Broadway--has added to our national discourse."