We believe translators are a living bridge, connecting countries and cultures around the world. We are a versatile group with a unique combination of linguistic, cultural, and market expertise. --Çedilla & Co.

Çedilla & Co., a new collective of literary translators, is hosting a launch event this Sunday at KGB Bar in Manhattan's East Village. Co-sponsored by the PEN America Translation Committee, the evening will feature readings from around the world, showcasing works in translation from the collective's portfolio. The Çedilla team is composed of nine members, working across 10 languages: Allison Markin Powell (Japanese), Alta L. Price (Italian & German), Elisabeth Jaquette (Arabic), Heather Cleary (Spanish), Jeffrey Zuckerman (French), Jeremy Tiang (Chinese), Julia Sanches (Portuguese, Spanish, French & Catalan), Marshall Yarbrough (German) and Sean Gasper Bye (Polish).
I first met Powell, founder of the website Japanese Literature in English, in 2014 when BookExpo's Global Forum showcased "Books in Translation." In a conversation with program coordinator Ruediger Wischenbart, Powell had said that translating is "an immersion into another culture and a reading of signifiers. I do try to gear toward a general reader.... I work within trade publishing. I'm looking for work an American audience might want to read."
We spoke briefly after that session, and recently picked up our conversation again to discuss the new initiative. I had a few questions. Speaking on behalf of the Çedilla team after consulting with her colleagues, Powell had some excellent answers: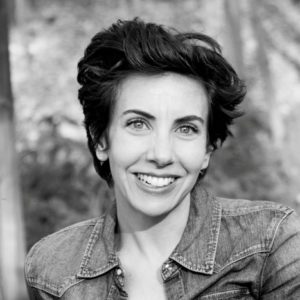 Allison Markin Powell
What was the genesis of Çedilla & Co.?
The idea for Çedilla & Co. sprang from a conversation between two of our founding members [Sanches and Bye] on a chilly Sunday afternoon when both were working to finish their respective translation projects and wishing they didn't have to juggle the freelance work they were passionate about with the occasionally less exciting responsibilities of a full-time job. They discussed the reasons why it wasn't worth it, financially, for a translator to have an agent--nor for an agent to represent a translator. The prospect of a "collective" agency, which some actors have in the U.K., came to mind as a possible model for a literary translators' agency. Instead of one person having to do everything to pitch their own project, the plan would be to represent each other--to pool our resources and efforts, at the same time giving translators some professional remove for the submission process. They wrote up a general business plan, discussed what shape it might take and whether they thought it might actually work, then started approaching other translators to join, and taking the practical steps towards becoming an entity that exists on the Internet. That was about a year and a half ago.

Why now?
Obviously right now there is an urgent need to hear from voices beyond our borders, but the collective had been in the works for some time already, and all of us have been working as translators for years. Looking at the market, there does seem to be increased attention on literature in translation, from Stieg Larsson to Elena Ferrante, and a variety of publishers--mostly independent--that are focusing on it. Many of us have also had positive feedback from booksellers about reader interest in books in translation. So we are hoping all of these indicators point to the opportunity for us to serve the industry to publish more of what they and their readers are looking for, at the same time improving our stake in the process.

Why this particular group of translators?
We came together based on the range of our language skills, our experience, and what each of us could bring to the collective. Some of us work as full-time translators, others have jobs in publishing; while we're all literary translators, we've worked with a variety of genres--fiction, nonfiction, art and architecture, theater, reportage, essays, biography, graphic and illustrated books. And then some of us know more about contracts and the submission process, others have expertise in web design and social media, and we even have a former bookseller on board. Although we like the idea of representing even more languages, there is a benefit to keeping the number of our members where it is for now (nine translators), mostly in administrative terms.

What are your specific goals, short-term as well as long-term?
We hope to fundamentally change how literature in translation is published in the United States, benefiting not only the publishers and readers, but also advocating for ourselves as translators. Each of us is quite knowledgeable and well positioned within our own language specialty, and that "market intelligence"--as we refer to it--is worth a great deal to publishers as well as to booksellers. We understand how the margins within publishing can be quite narrow, and we know that bringing a book into English can ostensibly be less costly than signing up a new native literary darling. And, as you yourself have written, we want to enable people to seek out literature in translation for the breadth and depth it offers, rather than because of a sense of obligation.
Powell also observed that because translation "is often such solitary work, one of our essential goals is to offer mutual support, encouraging best practices for us as professionals. We've each worked with such range of publishers and literary agencies, and the standards can vary widely, so it's immensely helpful to draw from our collective experience."
Independent booksellers are a key component in the process: "Just like your readers, we are--first and foremost--avid readers," she said. "We frequent indie bookstores nationwide and internationally, and when choosing projects we consider both the original text itself as well as its potential readership here in the English-speaking world. Booksellers are a key part of the publishing ecosystem; we're immensely grateful for your dedication to literature in translation, and look forward to hearing about what you and your readers and customers would like to see more of."