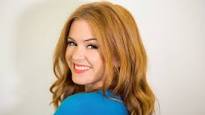 Actress and comedian Isla Fisher has been added to the lineup for BookExpo's Children's Book & Author Breakfast, which will be held June 2 at the Javits Center in New York City. She will discuss her new middle grade book, Marge in Charge, and the importance of helping children grow and learn through engaging storytelling. Fisher joins the previously announced lineup of Jason Reynolds, Marieke Nijkamp, Jennifer Weiner and host Savannah Guthrie.
Fisher has worked in TV and film for 25 years, including roles in The Great Gatsby, Wedding Crashers, Scooby Doo, Definitely Maybe, Confessions of a Shopaholic, and Arrested Development. Most recently, she starred in Keeping Up with the Joneses and Nocturnal Animals.
"The addition of Isla Fisher to the Children's Book & Author Breakfast rounds out an exciting and highly-talented lineup of speakers for what is sure to be one of the most anticipated events of the show this year," said Brien McDonald, event director of BookExpo.