Planet Earth is "a tiny sphere that orbits an ordinary, middle-aged star." It's also "a giant ball of rock and metal that whizzes through space around the sun." Shelf Awareness pays tribute to everyone's favorite planet with these Earth Day picture books about trees, space water, warthogs and "other wonders yet to find."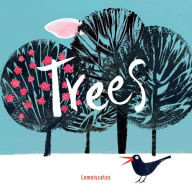 Trees (Candlewick, $14.99, hardcover, 40p., ages 2-5, 9780763690014, March 14, 2017) comes from Lemniscates, a Barcelona author/illustrator/designer collective that creates children's books and apps. Five or six words on each beautiful two-page spread capture the "marvelous beings" that are trees. On one spread, mixed-media clouds swirl above a pair of young black birds in a nest: "Trees have their heads in the clouds...." On the next, criss-crossing underground (root) routes tell a story of insect passageways and resting places of ancient stones and gems: "and their feet on the ground." Trees is more than another pretty book, though--in simple language, it provides real, if poetically minimal, information: "Trees clean the air we breathe... and give us their seeds with every piece of fruit." Simply lovely.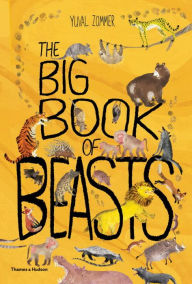 Whimsical and quirkily informative, The Big Book of Beasts (Thames & Hudson, $19.95, hardcover, 64p., ages 4-up, 9780500651063, April 18, 2017) by Yuval Zommer (The Big Book of Bugs) introduces readers to baboons, binturongs, honey badgers and more than a dozen other mammals that qualify as beasts: "deadly, cunning and most importantly, wild!" Pages featuring specific animals ask and answer the kinds of questions likely to be of greatest interest to young readers: "Why is an armadillo covered in armor?" "Is a Tasmanian devil a devil?" and "Just how lazy is a sloth?" (Spoiler: very.) Charming illustrations of each beast in various poses and habitats, search-and-find challenges and special sections on Ice Age beasts and saving endangered species make this "Big Book" a big winner.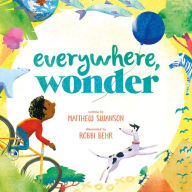 Everywhere, Wonder (Imprint/Macmillan, $17.99, hardcover, 48p., ages 3-6, 9781250087959, February 7, 2017) takes readers on a wild adventure from a little boy's bookshelf to the near side of the moon and back, with stops in the savannas of Kenya, the bottom of a swimming pool and the North Pole (where a "cold and lonesome bear" waits, "wishing for some company"). Dreamy pictures show the boy drifting right through the panes of his bedroom window as if it was water, and placing him in wondrous settings: rocketing toward Earth from the moon, gazing into the tree canopy in the jungles of Brazil and, in Sheboygan, enjoying an ice cream cone with "a tractor mechanic named Shirley" among her "thirty-seven friends." Author Matthew Swanson and illustrator Robbi Behr (Babies Ruin Everything) show readers how a lively imagination and a good book can carry you anywhere in this world--and beyond.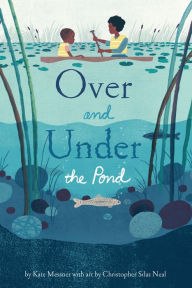 Over and Under the Pond (Chronicle, $16.99, hardcover, 48p., ages 5-8, 9781452145426, March 7, 2017) by Kate Messner, illustrated by Christopher Silas Neal, is the enchanting aqueous companion to Over and Under the Snow and Up in the Garden and Down in the Dirt. A small boy and his mother row across a pond, exploring the cattails and painted turtles and great blue herons "over the pond" while talking about the minnows and dragonfly larvae and tadpoles that live "under the pond." Cool blue-lavender-gray-green artwork brings the pond to life, carrying the reader from late afternoon into the evening as boy and mom shift their focus over and under, over and under, with a rhythm like oars dipping in a pond.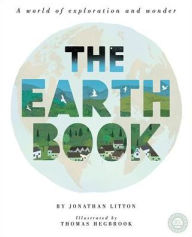 "In the vastness of space lies a tiny sphere that orbits an ordinary, middle-aged star in a quiet backwater of the Milky Way." The Earth Book (360 Degrees/Tiger Tales, $29.99, hardcover, 64p., ages 8-up, 9781944530068, March 1, 2017) by Jonathan Litton, illustrated by Thomas Hegbrook, is a big, elegant celebration of life on Earth. Highly detailed tidbits in four categories--Physical Earth, Life on Earth, Earth Regions and Human Planet--invite close, leisurely scrutiny. Thick, creamy paper soaks up the rich dark colors of spreads describing the inner workings of the planet, perfect for readers who want bite-size chunks of knowledge about our vast home.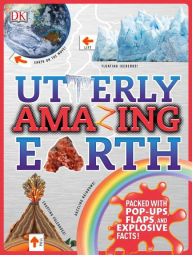 DK Publishing has a well-deserved reputation for producing authoritative compendiums of knowledge about an endless array of topics, chockablock with stunning photos and other illustrations. Utterly Amazing Earth (DK, $19.99, hardcover, 32p., ages 7-9, 9781465458674, March 21, 2017) by Dougal Jerram tackles one of the larger topics--Earth--with DK's trademark finesse. Pop-ups, flaps and wheels dramatize such earthly events as volcanoes and hailstorms, and diagrams and maps and manageable blocks of text provide good information about a range of fascinating subjects, including rocks and minerals, caves, "Icy Earth," seasons and life on Earth. Kids who love facts and explanations will eat this book up. --Emilie Coulter, freelance writer and editor