photo: Lorin Klaris
Abigail Pogrebin is the author of My Jewish Year: 18 Holidays, One Wondering Jew (Fig Tree Books, March 14, 2017); Stars of David: Prominent Jews Talk about Being Jewish, for which she interviewed 62 famous Jewish Americans about their religious identity; One and the Same, about the realities of being an identical twin; and Showstopper, about her teenage adventures in the original cast of a Broadway flop composed by Stephen Sondheim. A former Emmy-nominated producer for Mike Wallace at 60 Minutes and for Charlie Rose and Bill Moyers at PBS, she has written for numerous publications and been interviewed on the Today Show, Good Morning America, Charlie Rose and CNN.

On your nightstand now:

Jonathan Safran Foer, Here I Am
Charles Blow, Fire Shut Up in My Bones
Richard Cohen, She Made Me Laugh: My Friend Nora Ephron
Thomas L. Friedman, Thank You for Being Late: An Optimist's Guide to Thriving in the Age of Accelerations
Robert Gottlieb, Avid Reader

Favorite book when you were a child:

A Wrinkle in Time by Madeleine L'Engle: I never forgot my mother's bedside demonstration--using the wrinkle of the quilt fabric--of how time could be abridged or condensed.

Your top five authors:

Jhumpa Lahiri: She takes me immediately into whatever world she's created; I love her scenes, her characters, and her command of evocative language.

Frank Bruni: His bluntness, humor and peppery approach make me want to hear his take on the world and his own life.

Joan Didion: She's a master of the perfect, necessary, evocative detail.

Nora Ephron: Her biting irreverence and brave candor were always entirely fresh, and she called life's tiny truths on the carpet.

Rabbi Jonathan Sacks: He constantly pushes me to think about why Judaism remains not a dusty document but an urgent, relevant and resilient call to attentiveness, kindness and responsibility.

Book you've faked reading:

Being Mortal by Atul Gawande. I want to be reading it or to have read it, because everyone has talked about it and recommended it, but the subject of death and preparing for death scares me too much to stick with it.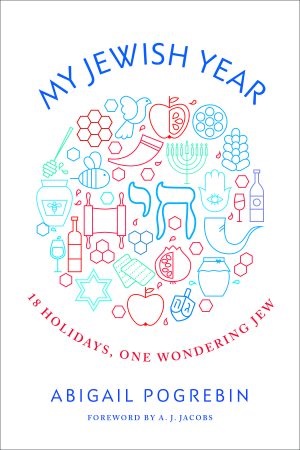 Book you're an evangelist for:

When Breath Becomes Air by Paul Kalanithi. This book was a revelation to me--for its candor, its unflinching confrontation with a physician's own mortality and the way it made me think about limited time and what constitutes quality of hours remaining.

Book you've bought for the cover:

Diaspora by Frédéric Brenner. It's dramatic and spare, and feels strong and inviting as a result.

Book you hid from your parents:

The Diary of Anaïs Nin. There were sexy parts that I don't recall now, but which felt illicit and shocking when I stumbled upon the book in grade school.

Book that changed your life:

The Year of Magical Thinking by Joan Didion. I had never seen that a shattering story could be told in snapshots, with startling power that came in economy, and the pointillism of grief.

Favorite line from a book:

"When Tibor died, the world came to an end. And the world did not come to an end. That is something you learn." --from Beloved Dog by Maira Kalman

Five books you'll never part with:

Pat the Bunny (Touch and Feel Book): It reminds me, in an instant, of my childhood.
Over the Moon by Rachel Vail: It reminds me, in an instant, of my children's childhood.
The Canterbury Tales by Geoffrey Chaucer: I studied, dissected and wrote term papers about that book till the pages were frayed. And of course, I still can recite (in Old English) the opening stanzas we all had to memorize.
Slouching Towards Bethlehem by Joan Didion: It's when I discovered the essentialness of keeping track and keeping notes.
Deborah, Golda and Me by Letty Cottin Pogrebin: It's my favorite of my mother's books, and taught me who she came from.

Book you most want to read again for the first time:

Heat by Bill Buford: It was a thorough romp from start to finish and I didn't want the journey to end.

Book I wish I'd written:

Israel Is Real by Rich Cohen: It manages to make a complicated history accessible, jaunty and luminous.