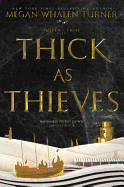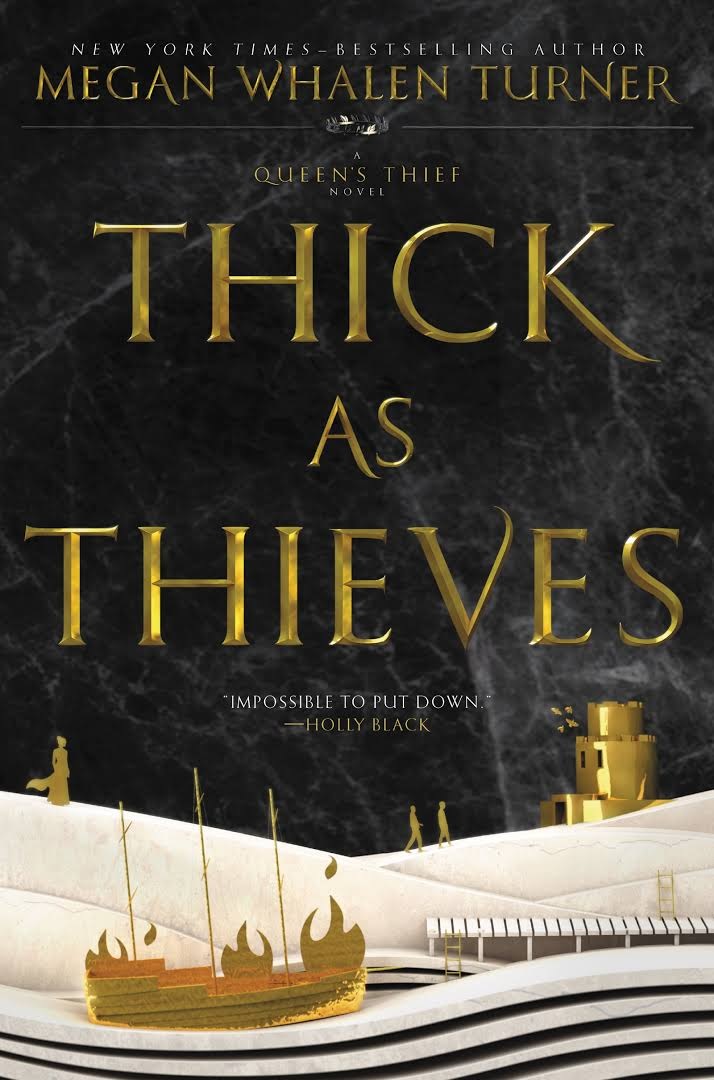 Megan Whalen Turner's world of the Queen's Thief comes alive once again in Thick as Thieves. Some characters will be delightfully familiar to fans of the previous books. However, the plot of Thick as Thieves stands alone, allowing newcomers to just as easily pick it up and tumble heart over head into the fantastical, magical realm of kings and slaves, soldiers and spies, thieves and gods.

Kamet is a slave, but one with significant position. He is the personal secretary to the prince Nahuseresh, nephew of the Mede emperor and brother to the emperor's chosen heir. Literate and educated, Kamet handles his master's accounting, correspondence and other tasks concerning the overall management of Nahuseresh's estate. His position has encouraged Kamet to envision lofty goals, "Someday [my master] meant to make a gift of me to his brother, and then, as the next emperor's personal slave, I would be one of the wealthiest and most powerful men in all the empire." But when a friend and fellow slave whispers a warning to Kamet, he realizes his life is in grave danger, bringing his aspirations of greatness crashing down around him. Left with no choice, Kamet runs.

Through Kamet's amazing and arduous adventures toward potential freedom, Turner navigates the geographical and political terrain of her fictional empire. The meticulously developed setting takes on dimension as Kamet travels through the skeletons of mines and mills, over mountains and earthquake-ravaged lands, down a dry well and a sacred flowing stepwell, into a city confronting the plague and out over the sea, all the while eating whatever's available, including rodents and the raw liver of a goat. He encounters friend and foe, always determined to outsmart his enemies and overcome each obstacle. But as each obstacle grows in significance, Kamet's luck wears thinner and thinner.

The complexity of Turner's world combined with the suspense of her layered plot creates a story that will appeal to readers of all ages. The thrill of the chase is magnetic--as is Kamet's budding and unlikely friendship with an Attolian soldier. This enemy of his master is offering to save Kamet, but is he really just leading the slave to his death? The stakes are high, and Turner keeps the intensity elevated throughout the novel, making it a challenge to tear oneself away from the exploits of this diminutive slave with his larger-than-life personality.

Thick as Thieves offers Turner's fans an eagerly anticipated return to the Queen's Thief world, but it also extends to a new generation an introduction to a spectacularly enchanted empire imagined by a master storyteller. Neither group will be disappointed. --Jen Forbus, freelancer

Shelf Talker: Continuing in the realm of her Newbery Award-winning YA fantasy series, Megan Whalen Turner takes a Mede slave on a harrowing life-or-death journey across the empire.