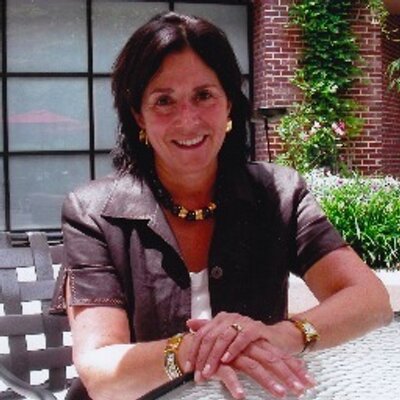 Lissa Muscatine
Lissa Muscatine, best-known in our world as co-owner of Politics & Prose in Washington, D.C., since 2011, is writing a book called Hillaryland, to be published by Penguin Press, "exploring the 25-year journey of Hillary [Clinton] and her closest advisors at the intersection of politics and gender dynamics, and detailing their story through the lens of the ongoing struggle for women's progress."
Ann Godoff, president and editor-in-chief of Penguin Press, which bought world rights to Hillaryland, commented: "Lissa Muscatine has intimately witnessed events that define who we are culturally and politically in a changing America through her close association with Hillary Clinton for the last quarter century."
During the Clinton administration, Muscatine served as a presidential speechwriter, chief speechwriter to the First Lady and, later, as Hillary Clinton's director of communications and deputy assistant to the president. During the Obama administration, she was director of speechwriting and senior adviser to Secretary of State Hillary Clinton. She also was co-collaborator on then-Senator Clinton's White House memoir, Living History, and was a senior adviser on Hillary Clinton's 2008 presidential campaign and an unofficial adviser during the 2016 campaign.
Earlier Muscatine was a journalist for 15 years, including at the Washington Post, where she was a reporter and editor on a variety of beats.
Muscatine told the Post that although her parents and her husband, Politics & Prose co-owner Bradley Graham, have all written books, this is her first and "a significant step" for her. "I promised myself long ago that I would never write a book of my own unless I had something meaningful to say."
Spurred by the "devastating" election, she added, "After years of writing in someone else's voice, I just felt absolutely compelled to write this book. I hope that by telling this story in my own words, I can offer insights into an important slice of history--a window into Hillary's world, and how that world is a mirror back on ourselves, our nation and our times."