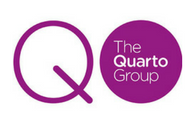 The Quarto Group is launching a new Spanish-language imprint, Quarto Iberoamericana, in a partnership with Argentinian publisher Catapulta Editores, a longtime co-edition partner of Quarto. Quarto Iberoamericana will publish 20 books a year, with the first six books, launching in fall 2017, in categories such as cookery, lifestyle and spirituality. Other categories will be added eventually. Titles will come from Quarto.
Catapulta Editores will be responsible for sales and distribution in Spain, Argentina, Chile, Uruguay, Paraguay, Bolivia, Peru and Ecuador. Partners to distribute the books in the rest of Latin America and North America will be named in the near future.
Quarto Group CEO Marcus Leaver commented: "Our stated intention to further expand our scale and reach around the globe sees it third iteration in the Spanish language, following the successful launch of Kalimat Quarto, our Arab language imprint in 2016, and Quarto Editora, our Brazilian imprint in 2015. This is another great example of finding further opportunities for growth with the right partners who share our values."