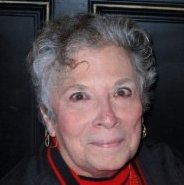 Audrey Eisman
Audrey Eisman, the former coordinator of the American Booksellers Foundation for Free Expression, died April 23, Bookselling This Week reported. She was 79. Eisman, who was the publicity director of Stein and Day Publishers from 1983 to 1991, joined the American Booksellers Association in 1992. She was hired by current ABA CEO Oren Teicher soon after he became president of ABFFE. Eisman left ABA in 1998, when Chris Finan succeeded Teicher as ABFFE president and moved the ABFFE office to Manhattan.
Following her retirement, Eisman continued to work for ABFFE as its book editor, and remained in this position after ABFFE became American Booksellers for Free Expression as part of ABA, in 2015.
"Audrey Eisman played an important role in helping us launch ABFFE," said Teicher. "She was a fierce First Amendment advocate and a voracious reader. She was also a very hard worker and an incredibly loyal employee. ABA was fortunate to have her in our employ for a long time. In her later years, Chris Finan, ABFE's current director, was instrumental in ensuring Audrey received the care and help that she needed, and all of us who knew and worked with Audrey are most grateful for all Chris did on her behalf."